2015 Press Releases
2015 Press Releases
UCC student wins Oscars of marketing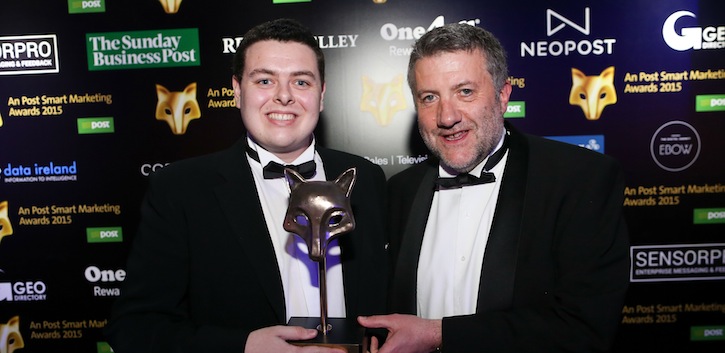 UCC student Padraig O'Connor has won the An Post Student Marketing Campaign of the Year Award 2015.‌
The annual An Post Smart Marketing Awards celebrate the most ingenious, innovative and creative marketing campaigns of the year. Padraig, a third-year UCC Commerce student originally from Tralee Road, Ballyduff in Co. Kerry, is studying at Pace University, New York as part of UCC's BComm year abroad program.
Padraig flew back to Ireland to accept the award, a prize of €3,000 and an internship with The Sunday Business Post.
An Post Student Marketing Campaign of the Year for 2015 - Padraig O'Connor. from Padraig O'Connor on Vimeo.
"I am very honoured to receive the An Post Smart Marketing Award," said Padraig. "I'm humbled to be selected by the judges and proud to represent UCC."
Padraig won the award for devising a marketing campaign for The Sunday Business Post online, consisting of all aspects of a marketing campaign from strategy to creative to media planning. His campaign involved the use of traditional, digital and experimental marketing, including the use of direct mail. "The Business of Keeping Ahead" was aimed at driving online subscriptions.
Read about my #marketing campaign which won an #AnPostSmartMarketing award in my latest blog post: http://t.co/mx8wmLoGWo @MailMediaUnit

— Padraig O'Connor (@oconnorpadraig) May 10, 2015
Padraig's talent and ability are earning him a variety of opportunities. In addition to his study abroad in New York, he is a member of the UCC Commerce Society. He was recently appointed as the Public Relations Officer of the society for the coming academic year where he will be responsible for promoting the Commerce Society to students, the community and the media.
The official awards ceremony was held on 7 May 2015 during a gala event held at the Mansion House in Dublin.
Learn more about Padraig at http://www.padraigoconnor.ie/
An Post's Smart Marketing Awards take place @MailMediaUnit #AnPostSmartMarketing #marketing http://t.co/xm5iEYlu5m

— Business&Leadership (@thebusinessday) May 8, 2015