2015 Press Releases
2015 Press Releases
UCC named Business of the Year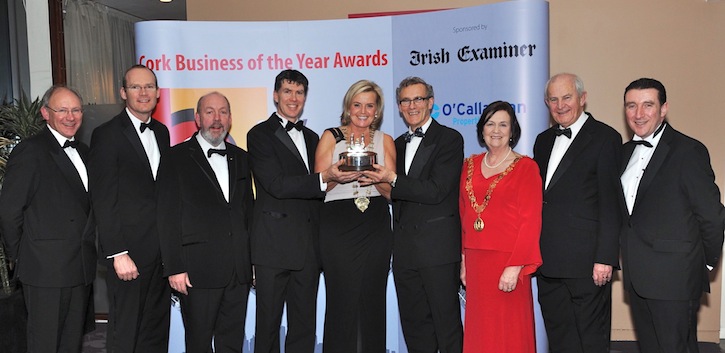 UCC has been named Cork Business of the Year in the large business category at the annual Cork Business Association (CBA) Awards in recognition of its contribution to the city and region.
Mick Murphy's Menswear won the small to medium size category, with the event MC'd by RTÉ's Paschal Sheehy, attracting business owners, managers, retailers and the hospitality trade as well as business influencers from across the region.
Cork institutions @UCC & @Mickmurphycork honoured by @CBA_cork at annual awards, | Irish Examiner http://t.co/AHZSqyWq31

— Peter O' Dwyer (@peterodwyer1) January 26, 2015
Fota Collection, Gresham Metropole and Top Shop were in the final shortlist in the large business category. Jacques, Cornstore and Phelan's Pharmacy made the final shortlist for the small to medium size category.
President of UCC, Dr Michael Murphy congratulated all the individuals and businesses involved, remarking:
"We are honoured to win this award which is especially significant as we commemorate George Boole's bicentenary and the impact he continues to make on the world, a story in which the role of UCC, Cork and Ireland is considerable. I'd like to extend a special thanks to the people and organisations that support us locally, nationally and internationally. This award will serve as further motivation for the University community to continue to work diligently towards furthering the economic success of the region and nation."
The awards were sponsored by O'Callaghan Properties, The Irish Examiner and the Clarion Hotel Cork.
Great acceptance speech by @UCC @CBA_cork #CBAAawards #WorldClass

— Paul O'Connell (@PaulO_Connell) January 24, 2015
Congratulations to @UCC winning the business of the year award #CBAAawards @ClarionCork what a night! More yet to come

— CBA Cork (@CBA_cork) January 24, 2015
.@UCC picked up the top award at #CBAAwards over the weekend - congratulations! http://t.co/I6agEAOf9q #GoodNewsCorner

— Brightwater Recruit (@brightwater98) January 26, 2015
Well done to @PaschalSheehy who did an amazing job MCing #CBAAwards last night & @ClarionCork and @ray_kelleher you were super @CBA_cork

— Niamh Murphy (@NiamhcMurphy) January 25, 2015
Congratulations to Claire Nash @CBA_cork @ClarionCork @PaschalSheehy & all who worked so hard to bring us such an enjoyable #CBAAwards

— Aud Burke-McCarthy (@AudreyBMC) January 25, 2015