2015 Press Releases
2015 Press Releases
UCC gets Tripadvisor thumbs up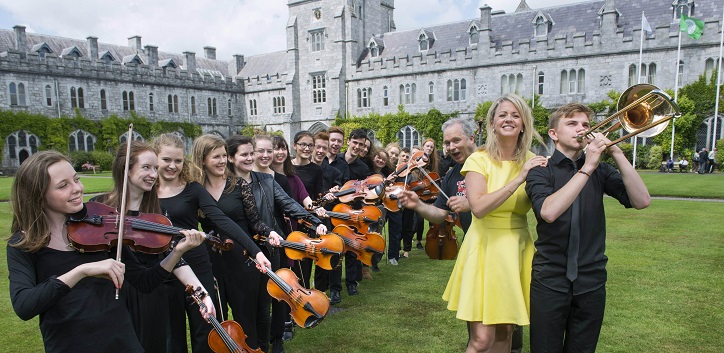 TripAdvisor has marked UCC out as one of the most popular attractions in Ireland. The news comes as the university counts down to A Summer's Evening on the Quad charity concert 2015.
TripAdvisor issued UCC with a Certificate of Excellence in recognition of consistently receiving great reviews. To be eligible, an organisation must maintain an overall rating of four or higher (out of five), as reviewed by travellers on TripAdvisor. Additional criteria includes the volume of reviews received within the last 12 months. UCC is currently the fourth most popular attraction in Cork, with a 4.5/5 rating.
Delighted to get this @TripAdvisor - thanks to all who rated & well done @UCCBandE @jpquinn78 http://t.co/N1hmFk0jmv pic.twitter.com/J5L5nTGVwW

— UCC Ireland (@UCC) June 10, 2015
@UCC congrats!

— TripAdvisor (@TripAdvisor) June 10, 2015
The reviews which led to the coveted certification are the end result of a significant amount of hard work and dedication by staff and students across UCC, particularly grounds staff in UCC Buildings & Estates, General Services and the UCC Visitors' Centre, as well as UCC's active social media presence.
JP Quinn, Head of the UCC Visitors' Centre, typically the first port of call for guests on campus and the driving force behind many of UCC's keystone events, remarked: "This endorsement from TripAdvisor will further heighten awareness of University College Cork and all it has to offers visitors, whether they are passing through for tourism or academic reasons. One of our most popular tours currently is the George Boole Tour. As UCC celebrates the bicentenary of George Boole, a self-taught mathematical genius who changed the world and UCC's first Professor of Mathematics, visitors have a chance to glimpse what it was like to be him."
Tom McCarthy, Media & PR Officer at UCC, commented: "The timing of this nod from TripAdvisor is particularly welcome, given UCC celebrates the tenth anniversary of A Summer's Evening on the Quad on 4 July, 2015. The 'Music of the Movies' themed open air concert will bring over 2,000 visitors to Cork and UCC's award-winning green campus, with all proceeds to the nominated charities. It also demonstrates that social media is now more than ever an essential channel for UCC when it comes to engaging with the wider community, one that we have been recognised for on multiple occasions in the last few years."
UCC continues to stand out nationally and internationally for its proactive social media presence, having recently made the finalist stage of the national Social Media Awards 2015, following on from a win for best social media engagement in 2014. It has previously been recognised by Flipkey.com, a travel site owned by TripAdvisor, as one of the top 40 must-see universities globally alongside other bodies, including the Eircom Spider Awards, Cork Digital Marketing Awards and the RaboDirect Tweeties. In addition to its presence across Twitter, Facebook, YouTube, LinkedIn and Storify, UCC also recently joined the Instagram and Persiscope platforms.

Social media plays a key part in UCC's efforts in supporting Leaving Certificate students as they consider their higher education option at CAO and Change of Mind time. It recently hosted another successful live online Q&A in partnership with the Irish Examiner and tech company Pubble.
How #Colleges can use #SocialMedia, using Harvard, UCC and Plymouth as case studies http://t.co/dixMvyiVPS pic.twitter.com/eTEZf4Rx2q

— BlueChief (@BlueChiefSocial) March 4, 2015
Wrote this for @universitytimes on offers day: @TCDDublin losing out to @UCC in social media & priority stakes: http://t.co/vC06QMrYb9

— Jack Leahy (@Jack_Leahy) August 22, 2014
A Summer's Evening on the Quad
The magnificent Celtic Tenors, Peter Corry and Alex Sharpe will be on hand to wow the audience at the 'Music of the Movies' themed concert on 4 July, with numbers from Les Misérables, The Phantom of the Opera, Guys and Dolls and many more favourites. Linda Kenny is taking on the role as Director of Production and will also perform as a special guest. All of the artists will be backed by the talented Cork Youth Orchestra under the baton of conductor Tomás McCarthy.
The event is being held in association with An Garda Síochána Bridewell Community Policing and is generously supported by BAM Construction, Evening Echo, Cork's 96FM and The River Lee Hotel.
Down Syndrome Cork, Brú Columbanus, the Cork-Singida Partnership, FirstLight Ireland and Student Counselling at UCC are all set to benefit from the mammoth fixture on the Munster social calendar.
Tickets are €30 and are on sale directly from UCC Visitors' Centre (visitorscentre@ucc.ie / 0035321 490 1876) on the main campus, from Down Syndrome Cork Merchant's Quay, Cork (or info@dsicork.org / +0035321 4300 444), as well as Pro Musica Cork (info@promusica.ie). Brú Columbanus are also selling tickets at their stand each day in Wilton Shopping Centre Cork (Tesco Info desk) (brucolumbanus@eircom.net / +0035321 434 5754). All proceeds go to the nominated charities.
To join the event page and for further information, click here.
---
Words: Tom McCarthy
Why our followers rock! 110 RTs of this request for #QuadUCC charity fundraiser 4 July https://t.co/2XOegFK9TG #Cork pic.twitter.com/O3xK7SLw7j

— UCC Ireland (@UCC) June 28, 2015