2015 Press Releases
2015 Press Releases
Playing video games in classrooms is 'logical'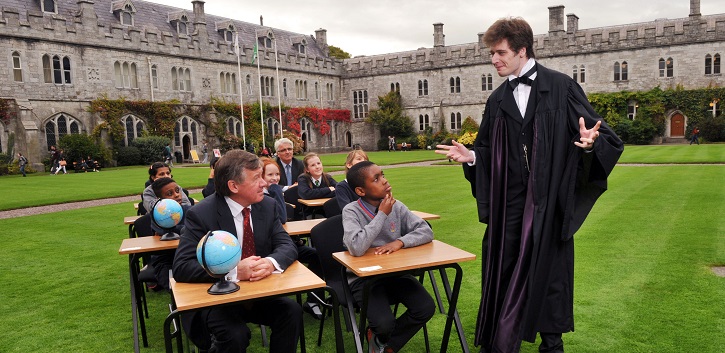 The Government should provide dedicated support to teachers to help them incorporate new technologies such as video games into their lessons, according to a professor at University College Cork.
Teachers should be trained to exploit technology such as MinecraftEdu, a school-ready remix of the smash hit video game Minecraft, to increase their students' ability to use logical argument, urged Emeritus Professor of Mathematics at UCC, Patrick Fitzpatrick.
He warned that the recent OECD report on the value of computers in schools needs cautious interpretation, and claimed that with careful monitoring of the quality of their experience, children's interaction with technology can be hugely beneficial. He called for teachers to receive more support in using technologies that are new to them.
Professor Fitzpatrick was speaking at the launch of UCC Brings Boole2School. This education initiative, the first of its kind, will result in school students across the globe studying logic in a Boolean Maths lesson, all on the same day — November 2, the bicentenary of Boole's birth.
Upon registration to the initiative, teachers receive free age-appropriate lesson plans, puzzles and worksheets, developed by Maths Circles Ireland in consultation with teachers, and available in English, Irish and Mandarin, for students aged 8 to 18. More than 25,000 school students across nine countries are already signed up to take the lessons.
A beautiful clip highlighting the importance of #Minecraft as a learning tool. @pfitzp @UCC @Boole2School https://t.co/HnaH5S0L09

— Andy Caomhánach (@andycaomhanach) October 1, 2015

Playing video games in classrooms is 'logical' - Great media coverage around the launch of UCC Brings Boole2School. pic.twitter.com/sPNJNkeTs7

— UCC Ireland (@UCC) September 30, 2015
"UCC Brings Boole2School is hugely significant in that it will introduce teachers and students worldwide to the work and remarkable achievements of George Boole, our first Professor of Mathematics. The initiative will emphasise the long-term value of supporting creativity and research," said Dr Michael Murphy, President, UCC.
The subject of logic itself is rarely taught in the modern curriculum, and it is often regarded as rather lifeless and uninteresting, Professor Fitzpatrick said. "However, the overwhelming majority of school students play computer games, and these provide an avenue for the study of elementary logic in an environment that is both familiar and enjoyable."
Game on - Government urged to include computer games in curriculum http://t.co/kFkLfA6HO8 pic.twitter.com/c47cPw1Xq1

— Newstalk 106-108fm (@NewstalkFM) September 29, 2015
On the value of computers in schools, Professor Brian Fitzgerald, Chief Scientist at Lero, the Irish Software Research Centre, echoed Professor Fitzpatrick's comments: "The key challenge is not to reduce the use of computers or the internet in Irish schools, but to show how this technology can be used more effectively to train students in problem-solving and collaboration."
Professor Fitzgerald expressed strong support for this "wonderful initiative", which "allows us to celebrate the significance of Boole¹s achievement and remind the world of its Irish origins, but also very importantly, gamification provides a structure for teachers and pupils to learn about Boolean logic in an enjoyable and fun atmosphere."
To engage students in the use of logic, in the Boole2School lessons they will learn how Boolean operators play a central role behind the scenes in the video games Candy Crush Saga and Minecraft.
Kids should play #Minecraft in school – UCC professor https://t.co/rhm3rAgdQA @UCC #education

— SiliconRepublic (@siliconrepublic) September 29, 2015
Millions of children are already playing Minecraft at home, whether on computers, consoles or mobile devices, with increasing numbers of classrooms worldwide using the game as an instruction tool. Earlier this year Minecraft was made available to every post-primary school in Northern Ireland, and in 2013 the Viktor Rydberg School in Stockholm hit the headlines after it introduced compulsory Minecraft lessons for 13-year-old students, as part of its curriculum.
According to Professor Fitzpatrick, "logical thinking is a central element in the learning process and for more than two millennia logic has been the basis of rational argument. Using simple truth tables and logic puzzles, students taking the Boole2School lessons learn how statements or situations may be combined and manipulated using the logical operations of AND, OR and NOT."
"In this way students are introduced to principles on which they can build clarity of thought and understanding of complex ideas, thus providing them with essential tools towards successful learning."
Should children learn about video games in school? New @UCC prog teaches Minecraft & Candy Crush @TodayFMNews @1 pic.twitter.com/iDGJnUbjf8

— Helen Vaughan (@HelenVaughan24) September 29, 2015
Bob Savage, Vice President and Managing Director of EMC Centres of Excellence EMEA and head of EMC Ireland, commented: "Boolean logic is at the heart of the video game and computer science, and engaging young pupils through a medium they understand and enjoy is an innovative way of encouraging STEM learning and promoting STEM careers.
"EMC is pleased to support this initiative, particularly as the Irish and global tech economies demand more graduates knowledgeable in technical subjects."
The initiative will highlight "the hugely significant contributions of George Boole not just to Mathematics, but also to IT, and ultimately to the way we live today," said Michelle Sliney, Principal of Coláiste Choilm in Ballincollig, Cork. She welcomed the availability of the lesson 'as Gaeilge' and thanked UCC for "making these lessons so accessible to schools."
"In Coláiste/Gaelcholáiste Choilm we are looking forward to delivering these lessons and feel that our students will benefit greatly from this experience."
Further information and registration details for UCC Brings Boole2School are available at: georgeboole.com/boole2school.