2015 Press Releases
2015 Press Releases
Neuroscience without Borders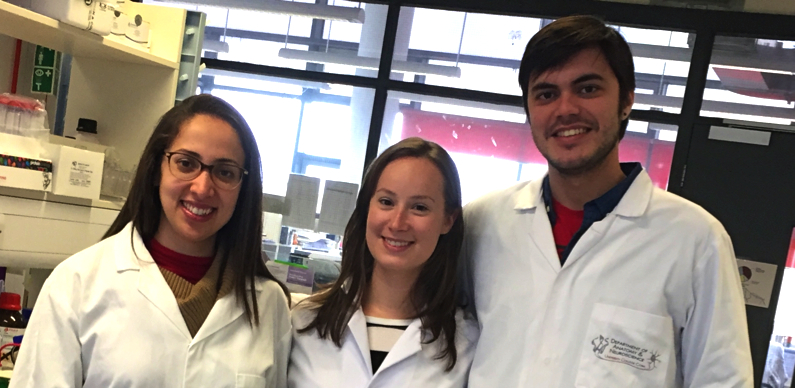 Cork is a long way from the island city of Florianopolis in Brazil, but it has been an incredibly fruitful journey so far for three Brazilian neuroscience PhD students at UCC.
The students are sponsored by the Brazilian government's 'Science without Borders' programme. Lívia Hecke Morais is working with Professors John F. Cryan and Ted Dinan and will spend four years in UCC. Ana Paula Costa is on a one-year exchange in Professor Cryan and Professor Dinan's lab. Brunno Roche Levone is funded for four years for his project with Professor Cryan and Dr Olivia O'Leary. Although none of the three knew each other before applying to come to Cork, they have now become firm friends.
"One of the best things about Ireland and Cork City in particular is its very friendly atmosphere. But the main reason why I came here is to study Neuroscience", says Livia.
"For my PhD, I was looking for a university where I would have the opportunity to learn from world-class scientists and contribute to relevant, exciting, multi-disciplinary research. I am very happy and pleased that I found everything that I wanted at UCC. Now, I hope to have a productive experience at UCC and in the future to contribute to the expansion of science, technology and innovation in Ireland and in Brazil by means of international exchange and mobility."
Ana is relishing her time in Cork.
"To be scientist you need to be open to explore new places, to meet new people and seek what is best in your field. During my master´s I always used Professor Cryan's papers as a reference for my research, and the Science Without Borders programme has allowed me this amazing experience to join his lab. Since arriving I've met brilliant scientists, including Nobel Prize winners and I´m improving my English and scientific skills."
Brunno has been enjoying Irish culture and hospitality. "People are very welcoming, helpful and always happy. I feel like I'm home here. Along with that, we work in a state-of-the-art laboratory and we have weekly meetings to discuss our projects, so it is very productive. I'm very proud of living in Cork, Ireland and of working in this lab in UCC!"
Professor Cryan, Head of the Department of Anatomy & Neuroscience and Principal Investigator in the Alimentary Pharmabiotic Center, explains that the quality of the science & scientists coming out of Brazil is very exciting right now.
"I'm delighted to host these three great students in our laboratory were they will further develop scientifically and language-wise. The benefits are also very much local as well in that they strongly enrich the scientific and cultural environment in UCC."
Another Brazilian student making headlines this week is Raul Soares, a Civil Engineering student whose creative take on life in Cork City and at UCC has since gone viral.
This week heralds the first Brazil-Ireland Science Week. It is taking place in Dublin from the 23-26 of February 2015. See http://rbi.ie/science-week/
Amazing! One @uccint student's life in #Cork - @Failte_Ireland @IrlEmbBrazil would love this https://t.co/duAhBxNfiz (h/t @breakingnewsie)

— UCC Ireland (@UCC) February 20, 2015
Brazilian student shows off love for Cork in classy video | BreakingNews.ie #dowtcha #cork @ucc http://t.co/C7g7hiqDz1

— Orla Murphy (@omurphy16) February 21, 2015
@UCC @UCCInt you beat us to it! Lovely way to promote Brazil Ireland Science Week 23-25 Feb http://t.co/DPq593FtK4

— Irish Embassy Brazil (@IrlEmbBrazil) February 20, 2015
Editor's Note - since this article was published, another video from a Brazilian student showcasing Cork and UCC - this time Fauzia Silva - has gone viral. Brilliant work Fauzia!
VIDEO: International student shows her love for #Cork, via @deniseodonoghue | http://t.co/1mWoLc4Kwr (SN) @UCC pic.twitter.com/mW5Bj1NDY6

— Irish Examiner (@irishexaminer) February 24, 2015