2015 Press Releases
2015 Press Releases
Derry presents €5520 to BUMBLEance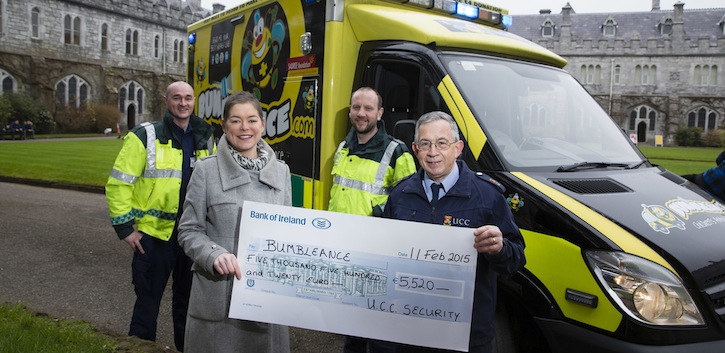 Derry McSweeney, who retires this week after 45 years of loyal and dedicated service with UCC General Services/Security, has presented a cheque for €5520 to children's charity BUMBLEance.

The sum was raised during a Christmas fundraiser organised by UCC Security, of which Derry has been an essential part.
Sarah Courtney, Chair of the Parents' Association in St Catherine's National School, Model Farm Road, also presented the €520 proceeds from the school's Christmas dress up day to support the great work of BUMBLEance. UCC law lecturer Louise Crowley, who is also a BUMBLEance board member, accepted both cheques on behalf of the world's first interactive ambulance service designed specifically for children.
Having joined the Works Department in 1970 as a Departmental Operative, Derry switched to General Services/Security in 1979 where he has remained ever since. Derry is widely known throughout UCC for his good humour and helpful disposition, always having a smile and an enjoyable story and is only too willing to share his anecdotes and experience with others.
Derry has also been at the forefront of many of the successful charity fundraisers organised by General Services and Security staff over the years – the most recent being the Christmas fundraiser for BUMBLEance.
The concept behind the non-profit state-of-the-art ambulance is as simple as it is eloquent - transform what can be an incredibly stressful trip for critically ill children and their guardians into an altogether more pleasant journey. CEO Tony Heffernan has previously commented that BUMBLEance receives no state support.
Tremendous generosity from @UCC staff and students, raising €5k+ for @BUMBLEance #proud pic.twitter.com/Umh9u80u1e

— Louise Crowley (@LouiseCrowley2) February 10, 2015
Derry is an avid traveller having covered much of the world and is by no means finished yet. His retirement marks the end of a long family involvement in UCC - his father worked in Electrical Engineering for thirty years. He is originally from Mayfield, Cork City and is currently living in Carrigaline.
A reception to mark Derry's retirement will be held this Friday 13 February at 4:30pm in Áras na MacLéinn, New Bar. Please RSVP via generalservicesadmin@ucc.ie
Thanks to @UCC handing over a €5,520 cheque to @LouiseCrowley2 from @Saoirse_Fdn & @BUMBLEance today. pic.twitter.com/luMbdUk3zG #Shiverfest

— BUMBLEance (@BUMBLEance) February 10, 2015