Latest News
Latest News
UCC joins European project to develop digital physiotherapy rehabilitation tech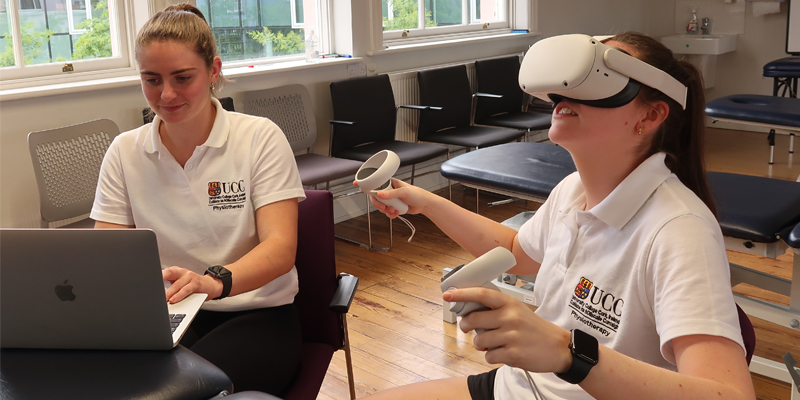 Scale-Up4Rehab project to develop Netflix-style platform to offer virtual rehabilitation to patients.
Multi-disciplinary collaboration awarded €10.8 million Interreg North-West Europe funding.
UCC Physiotherapy students to benefit from innovative digital rehabilitation training.
University College Cork (UCC) researchers will collaborate with European partners in a new 5-year project aimed at providing a platform that offers access to virtual rehabilitation therapies for those most in need, thus reducing healthcare rehabilitation waiting lists.
Scale-Up4Rehab, an Interreg North-West Europe (NWE) grant involving 13 European partners across clinical and research and development sectors, represents a major advancement in the digitalisation of rehabilitation services across Europe. The project aims to develop an open NWE virtual rehabilitation clinic similar in design to platforms such as Netflix, through which existing virtual rehabilitation therapies will be piloted and scaled up.
The response of healthcare services to the Covid-19 pandemic has demonstrated opportunities that digital solutions offer in terms of access, efficiency and effectiveness. Following professional assessment and individualised treatments prescribed by clinicians, digital rehabilitation harnesses the latest virtual reality technology and will offer access to dedicated rehabilitation care regardless of the location of the patient.

Scale-Up4Rehab aims to ensure equal access to rehabilitation care and foster the resilience of healthcare systems throughout North-West Europe. European partners in rehabilitation clinics, medical centres and innovation networks, along with experts in research and development in engineering and computer science will collaborate on the project over a five-year period.
Dr Joseph McVeigh, Head of Discipline of Physiotherapy and Mr David Murphy, School of Computer Science and Information Technology, lead UCC's involvement in the €10.8 million project, with almost €1 million allocated to UCC.
Five regional pilots in Ireland, the Netherlands, Germany, Belgium and Luxemburg, will establish the feasibility of the virtual rehabilitation clinic across a range of conditions such as stroke, back pain, Parkinson's disease and cerebral palsy. The UCC team (Dr Joseph McVeigh, Mr David Murphy, Mr Eoghan Ó Riain, Mr Aaron Cole, Ms Ciara Hanrahan, Mr Declan O'Sullivan and Ms Trish O'Sullivan), working with the other Irish partner University College Dublin (UCD), will focus on people with chronic pain and long covid.
Dr McVeigh expects the project to significantly improve access to effective rehabilitation services for patients.
"Waiting lists across a range of rehabilitation services are far too long. Patients need early and appropriate interventions. Digital solutions offer the potential to deliver rehabilitation earlier, faster, and direct to their home. All patients will continue to require bespoke individualised care that is appropriate for their needs at any time, but we also need to be open to the opportunities and improvements that technology can offer patients," Dr McVeigh said.
Scale-Up4Rehab aims to develop applications that meet the highest standards of efficacy and effectiveness, as well as having high acceptance amongst healthcare professionals and patients.
"We need a clear set of requirements for applications to create a scalable virtual rehabilitation clinic. These requirements will cover medical, technical, and legal criteria," said David Murphy.
The project will also embed digital rehabilitation into the physiotherapy curriculum at UCC, exposing students to digital technologies and digital rehabilitation early in their training. "At UCC we are training physiotherapists not just for today and tomorrow but for many years to come. While it is widely accepted that physiotherapists are evidence-based and research led, physiotherapists of the future need to be equipped with the skills to work with future digital technologies. We want our students at UCC to be leaders in this field," added Dr McVeigh.
Commenting on the Scale-Up4Rehab project, Professor John Cryan, Vice-President of Research and Innovation at UCC said:
"This project represents a fantastic opportunity to revolutionise rehabilitation services in the healthcare system, providing solutions to the challenges associated with rehabilitation care and recovery. Significantly, it will also embed research-led innovative technological solutions into our physiotherapy curriculum at UCC."