Latest News
Latest News
Portrait of past UCC President Professor Patrick O'Shea unveiled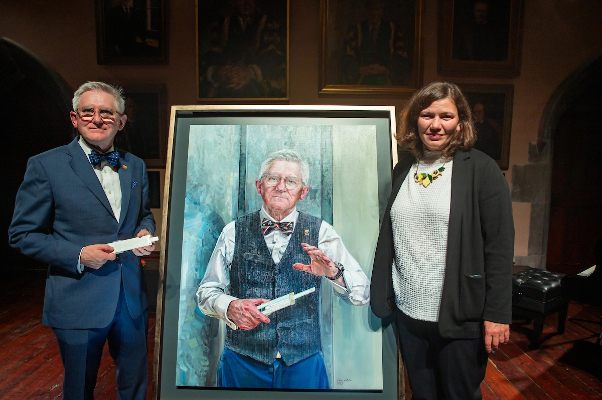 The portrait by artist Vera Klute was unveiled at a special event at the university.
A portrait of past University College Cork (UCC) President Professor Patrick O'Shea commissioned from the artist Vera Klute has been unveiled by Dr Catherine Day, Chair of the Governing Body, UCC.
Professor Patrick O'Shea became President of UCC in 2017 and was the 15th President in the history of the University. Professor O'Shea graduated with a degree in physics from UCC, and went on to become Vice President and Chief Research Officer at the University of Maryland before returning to Cork. He is a Fellow of the American Physical Society, the Irish Academy of Engineering, the Royal Society for the Arts, the American Association for the Advancement of Science and the Institute of Electrical and Electronic Engineers. Professor O'Shea is also a University of Maryland Distinguished Scholar-Teacher. Professor O'Shea retired as UCC President in 2020.
UCC President Professor John O'Halloran stated: "Pat holds a strong belief that universities should be of their community and of their city, and there was a strong focus on maximising UCC's contribution to Cork city during his time at UCC."
Vera Klute is a visual artist based in Co. Kilkenny.
She has exhibited widely in Ireland and abroad since graduating from IADT in 2006, including solo exhibitions at the RHA, the Butler Gallery, and the LAB, as well as group exhibitions at the Reina Sofia Museum in Madrid and at the Haus der Kulturen der Welt in Berlin. Major public commissions undertaken include a portrait bust of Eileen Grey for the grounds E-1027, the designer's iconic house on the Côte d'Azur, as well the sculpture of Luke Kelly at Spencer Dock, on behalf of Dublin City Council.
Her work is represented in many collections, including the National Gallery of Ireland, The Office of Public Works and the Arts Council and she has won numerous awards including the Anita Young Award (2022), the Hanley Energy Sustainability Excellence Award (2021), the Solomon Fine Art Award for Sculpture (2020), the Hennessy Portrait Prize at the National Gallery (2015), the Hennessy Craig Scholarship at the RHA (2015), the K+M Evans Award (2013) and the EVA Award at Wexford Arts Centre (2009).
The University formally established the practice of commissioning a portrait of the University President upon completion of his/her term of office in 1949, as part of the celebrations marking the centenary of the opening of Queen's College Cork in 1849.