Latest News
Latest News
New RTÉ show & Marina Market fun among highlights of UCC's Science Week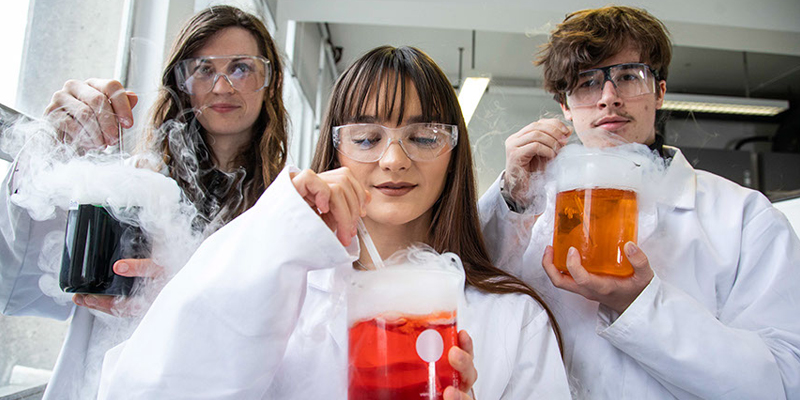 Science at the Marina Market and a food demonstration by Chef Catherine Fulvio are among the community events that University College Cork (UCC) researchers have organised for Science Week which runs from November 12-19th.
Also UCC researchers, Dr Paul Deane and Dr Sharon Lambert, will be involved in Tomorrow Tonight a new RTÉ scripted, docu-drama set 27 years in the future guiding viewers through the breaking news moments on a seismic night, as climate change pushes the planet to a moment of crisis.
Supported by Science Foundation Ireland (SFI), the theme for Science Week 2023 is 'Human?', which asks people to consider what it means to be human in today's world, and how the decisions made today will impact the people and world of the future.
Speaking as UCC's list of events was unveiled, Prof. Sarah Culloty, Head of UCC's College of Science, Engineering and Food Science said:
"Understanding science and the role it plays in the world around us is important, and we are delighted to once again participate in Science Week. Our events will bring various disciplines of science from labs and lecture halls to the Marina Market, shopping centres, schools, and public libraries. From the environment around us, to the gut inside us, we have a range of activities for all ages and interests."
Curiosity about how we interact as human beings – with each other and the world around us – has driven scientific inquiry, leading to discoveries that have transformed our understanding of the universe. For Science Week 2023, the public is being asked to consider the question of what lies ahead for future generations.
A schedule of UCC organised events is listed below.


Date

Time

Event

UCC Host

Location

Monday November 13th

9am – 11am

Primary School Visit

IPIC, AMBER, CONNECT & Tyndall National Institute

Douglas & Rochestown Educate Together NS

Monday November 13th

9:30am – 1.30pm

Inflatable gut

APC Microbiome Ireland

Carrigaline Library

Tuesday November 14th

Registration closed

DNA Workshop

School of Biochemistry and Cell Biology

Western Gateway Building

Tuesday November 14th

10am – 12pm

Secondary School Visit

IPIC & Tyndall National Institute

St. Patrick's College, Gardiner's Hill

Wednesday November 15th

08:50am and 10.40am

Secondary School Visit

Dr Lynette Keeney - Tyndall National Institute

Carrigtwohill Community National School

Wednesday November 15th

9.30am – 11.30am

Primary School Visit

IPIC & Tyndall National Institute

Scoil Mhuire Junior School

Wednesday November 15th

1pm – 2pm

UCC Irish Tree Explorers Tour

School of Biological, Earth and Environmental Science

UCC Visitor Centre, North Wing of the Quad

Wednesday November 15th

7pm – 9pm

Food demonstration by Chef Catherine Fulvio (breakfast and dinner recipes gut friendly/fermented food) and discussion about the Microbiome and fermented food by Paul Cotter and Elizabeth Schneider

APC Microbiome Ireland

Douglas Village Shopping Centre

Free ticket with Promocode - APC

Thursday November 16th

9.30am – 11am

Secondary School Visit

Tyndall National Institute

Ursuline Secondary School, Blackrock

Friday November 17th

11.30am – 12.30pm

Secondary School Visit

IPIC & Tyndall National Institute

Christian Brothers

Friday November 17th

All day

First APC Podcast – Prof Colin Hill in conversation with recent Charles Donovan Microbiome Prize Award Winner, Ruth Ley

APC Microbiome Ireland

Podcast providers

Friday November 17th

7.30pm

Chemistry Magic Show

School of Chemistry

Kane Building, G1

Saturday November 18th

11am – 3pm

Science at Marina Market - A fun-filled interactive family day at Cork's Marina Market. Hosted by Teagasc and Vista Milk with APC Microbiome Ireland.

MaREI stand and activities

Tyndall stand and Budding young scientists are invited to explore light and electronics at our stands. Discover how rainbows help us communicate across the globe and in space. Learn about what goes into your devices and build your own circuits. Investigate the science of walking with our magical walking paper hedgehogs.

APC Microbiome Ireland, MaREI, IPIC, MCCI, CONNECT & Tyndall National Institute

Marina Market, Cork