2020
2020
UCC prepares for its new academic term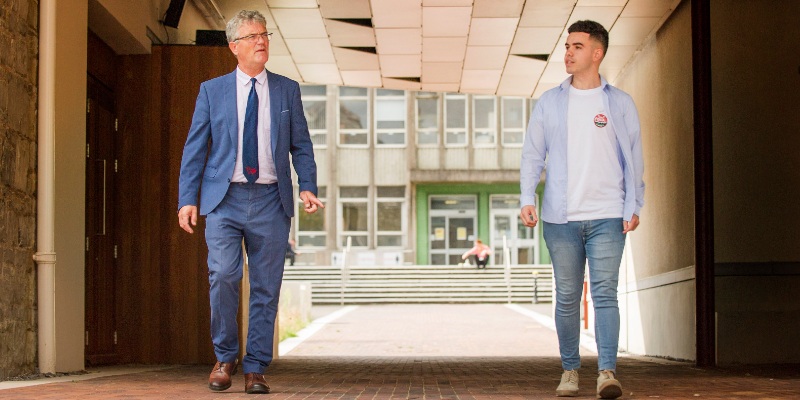 A community charter, a joint social media campaign with the Student Union, and a COVID-19 safety support team are among the initiatives University College Cork has planned as the new academic term commences next week.
UCC Community Charter is a set of principles for UCC's students and staff to reaffirm their commitment towards the shared responsibility of protecting our community. The community charter forms part of student and staff return to campus induction.
"We have worked together with our students and staff since the pandemic occurred, and as the new term commences we want to both underline the importance of our shared responsibility and ensure we are supporting students and staff at this time," commented Professor John O'Halloran, Interim President of UCC.
We are bringing a bit of to our campus https://t.co/YeSGvE8GBH

— UCC Ireland (@UCC) September 23, 2020
UCC's operations were reconfigured to meet COVID-19 health and safety requirements, with over 5,000 safety signs installed across UCC's campus, while over 10,000 face coverings have been distributed to students and staff to date. To guide and support those on campus, a dedicated COVID-19 Safety Support Team will assist students and staff and a student-led social media campaign will encourage adherence to national health guidelines throughout the term.
Sampla iontach den aistriúchán cliste. Níl cúis ar bith nach ndéanfadh dreamanna eile aithris ar an gcineál seo tiontaithe. https://t.co/zrRHQQ5asb

— Coiste na bhFocal Nua (@coistenabhfocal) September 21, 2020
A dedicated mentoring programme for first year students, a laptop loan scheme, and a virtual learning space designed to support students as they navigate a new 'blended learning' environment, are among the over 50 dedicated services supporting students' personal, academic and professional development throughout the new term at UCC.
"Throughout the year, there has been extraordinary work done by colleagues at UCC to ensure our students and researchers are supported. This is an unprecedented time but in responding to these challenges, we will continue to work together," Professor O'Halloran said.
Loving the playfulness of this messaging @UCC #stalltheball pic.twitter.com/MKj78aosVz

— ClareGeraghty (@geraghty_clare) September 22, 2020