2020
2020
UCC celebrates 10 years as a Green Campus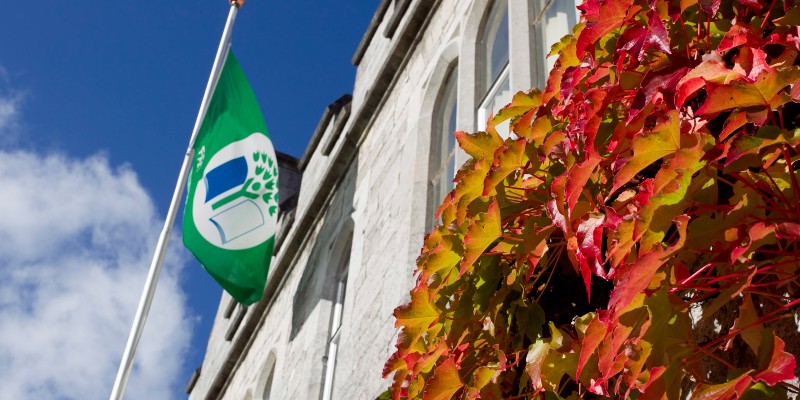 Today, Wednesday 19 February, University College Cork will celebrate 10 years since becoming the first university in the world to be awarded a Green Flag from the Foundation for Environmental Education.
UCC has continued to lead the way on environmental and sustainable issues in the decade since it was the first globally to reach this milestone, and is currently ranked the world's number one University for responsible consumption and production by the Times Higher Education.
UCC was the global pilot for the Green Campus programme, thanks to a group of engaged students who wanted to have a greater say in how the university managed its environmental footprint.
"Green Campus has completely transformed the university; sustainability is now front and centre in decision making at every level from food to finance, we are always thinking how to reduce our impact on the environment. It has been an incredible example of how thing can and do change when people work together and commit to being better," UCC Sustainability Officer Dr Maria Kirrane said.
Over the past ten years, UCC's Green Campus programme has remained "student-led, research-informed, and practice-focused". The university's students inspire and drive change across all aspects of the university's operations, while staff members across all units, disciplines and levels bring their ideas to life.
In the decade that has passed UCC has:
fully divested of fossil fuels and is the only HEI in Ireland to sign the Principles of Responsible Investment.
become home to Ireland's only "Farm to Fork" programme on a University campus.
hosted Ireland's first single-use plastic free café.
cut waste tonnage by 25%.
reduced carbon footprint by 36%.
become the only university outside of North America to be awarded a STARS Gold rating from the Foundation for Environmental Education.
To mark the occasion students from 20 local primary and secondary schools will today visit UCC to learn about Green Campus.
They will tour all the green features of the university and undertake workshops offered by UCC staff and students on the themes of "Creativity and Climate Change", "Activism", and "Plastic Pollution".
The intergenerational event will mark the fact that, while much has been done over the last 10 years, the next decade will be pivotal in driving the change to greater sustainability across society as a whole.
Professor John O'Halloran, UCC Deputy President and Registrar, said the University is hugely proud of its student-led, research-informed, and practice-focus green flag programme.
"We believe in transformation through collaboration. As a community we have started to bring about some of the changes needed to address serious environmental problems such as single use plastic, food waste and climate change. We support our students and staff in local action with a global impact," Prof O'Halloran said.