2018
2018
A new bridge for Cork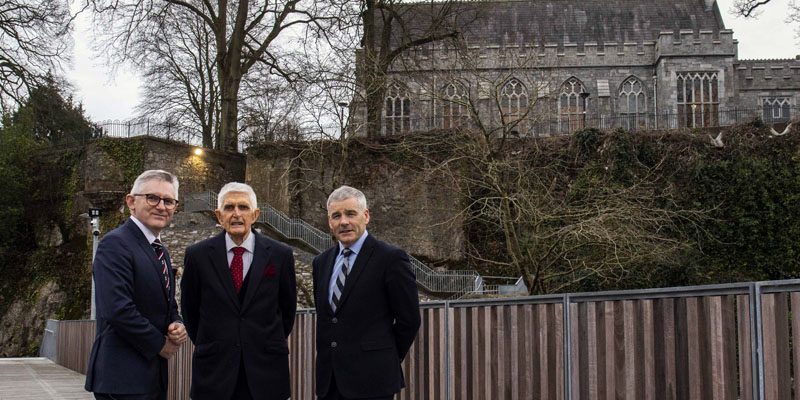 The Cavanagh bridge was officially opened to the public yesterday at UCC by Dr Tom Cavanagh, the President of UCC, Professor Patrick O' Shea and Mark Poland, Director of Buildings & Estates, UCC.
The 27 metre pedestrian bridge was designed by O'Donnell + Tuomey architects and links Perrott's Inch on the North Bank to the Lower Grounds of the main campus, with a new public access onto the Western road.
Perrott's Inch and the Lower Grounds were depicted in the paintings of UCC as meadow land with an impressive view of the Deane & Woodward Main Quadrangle. The area was low lying and consisted of a series of streams and hillocks that were connected by makeshift timber bridges. The area was used for fishing and grazing animals and in the late nineteenth century the Lower Grounds took on a new life as Victorian pleasure garden for the staff and students of Queens College.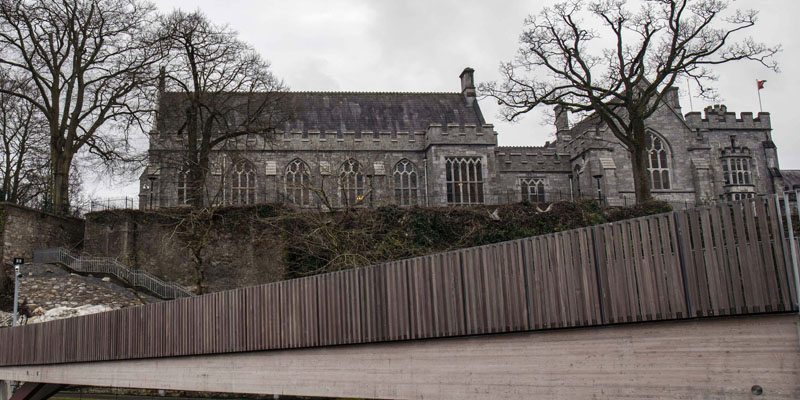 Four generations of the Cavanagh family attended the opening of the bridge, at which Dr Tom Cavanagh reflected on his time at UCC,
"I have great memories of my time as a student at UCC. It was a real turning point in my life and I am happy to give back."
The Cavanagh bridge forms part of the UCC campus masterplan and the bridge extends the connection of the campus with Cork and its community. The bridge is open to the public from 8am-7pm and its construction was kindly supported by the Tomar Trust.
For more on this story contact:
Eoin Hahessy, Head of Media and PR, UCC on 086 046 8950 or eoin.hahessy@ucc.ie