INPQR and Related Publications
INPQR and Related Publications
Peer Reviewed Papers Using a Pluralistic Qualitative Approach
Books
The following books are helpful for researchers who wish to use a pluralistic methodology. If you would like to review one of them, and receive a free copy for doing so, please email Nollaig.frost@ucc.ie.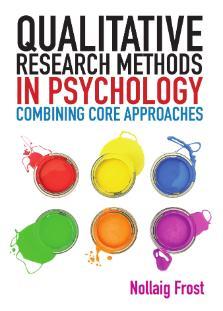 Qualitative Research in Psychology: Combining Core Approaches
Editor: Nollaig Frost
Contributing Authors: Amanda Holt, Cigdem Esin, Sevasti-Melissa Nolas, Pnina Shinebourne
Published in 2011 by Open University Press.
Nominated for a British Psychological Society Book Award 2013.
The book is a textbook aimed primarily at the postgraduate, doctoral and postdoctoral market in psychology and related disciplines. It introduces an innovative, cutting edge approach to conducting qualitative research by bringing together current work, questions and debates arising from combining qualitative methods with each other. The book contains practical instructions and conceptual discussions that enable researchers already familiar with the single use of qualitative methods to extend their application of these techniques in a robust and viable manner.
To buy this book with a 20% discount use code FROST20 at www.mheducation.co.uk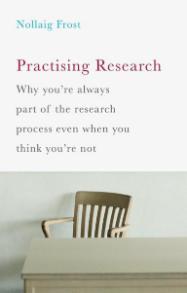 Practising Research: Why you're always part of the research process even when you think you're not
Author: Nollaig Frost. Published in 2016 by Palgrave.
An indispensable guide to conducting research in the social sciences. Looking beyond the traditional boundaries of quantitative and qualitative research, this is an illuminating and accessible guide to thinking about the role of the researcher. Suitable for readers working across the social and behavioural sciences, it will hep both novice and expert researchers to assess their own impact on their methodology and findings.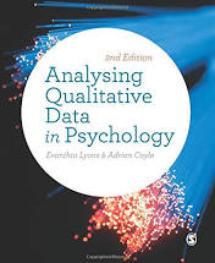 Analysing Qualitative Data in Psychology.
AuthorL Lyons, E. and Coyle, A.. Published in 2016 by Sage.
Analyzing Qualitative Data in Psychology equips students and researchers in psychology and the social sciences to carry out qualitative data analysis, focusing on four major methods (grounded theory, interpretative phenomenological analysis, discourse analysis and narrative analysis). Assuming no prior knowledge of qualitative research, chapters on the nature, assumptions and practicalities of each method are written by acknowledged experts. To help students and researchers make informed methodological choices about their own research the book addresses data collection and the writing up of research using each method, while providing a sustained comparison of the four methods, backed up with authoritative analyses using the different methods.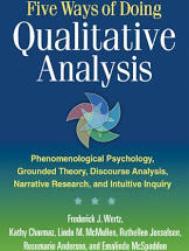 Five ways of doing qualitative analysis: Phenomenological psychology, grounded theory, discourse analysis, narrative research, and intuitive inquiry.
Authors: Charmaz, K., & McMullen, L. M. Published in 2011 by Guilford Press.
This unique text provides a broad introduction to qualitative analysis together with concrete demonstrations and comparisons of five major approaches. Leading scholars apply their respective analytic lenses to a narrative account and interview featuring "Teresa," a young opera singer who experienced a career-changing illness. The resulting analyses vividly exemplify what each approach looks like in action. The researchers then probe the similarities and differences among their approaches; their distinctive purposes and strengths; the role, style, and subjectivity of the individual researcher; and the scientific and ethical complexities of conducting qualitative research. Also included are the research participant's responses to each analysis of her experience. A narrative account from another research participant, "Gail," can be used by readers to practice the kinds of analysis explored in the book.
Useful Links