News
News
7th Annual DiGP/UCC/HSE Collaborative Diabetes Conference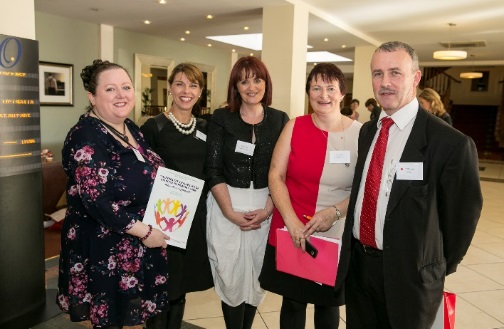 The Diabetes In General Practice Group (DiGP), the Department of General Practice UCC and the HSE recently hosted another very successful diabetes conference, which was held on 15th October 2014 at Oriel House Hotel, Ballincollig, Cork. This was the seventh annual diabetes conference, and with 240 delegates attending from all disciplines across primary care, is one of the biggest Diabetes events in Ireland!
The conference theme for this year was "Meeting the Challenges of Diabetes in Primary Care - a hands on approach" and combined a variety of high quality plenary sessions with a total of 8 workshops, all of which aimed to address the key challenges faced by health professionals and patients in the management of diabetes.
Prof Henry Smithson, from the Department of General Practice in UCC, opened the conference with a presentation focusing on the self-management of long-term illnesses, and suggesting that health care professionals need to develop a greater understanding of the reality of living with long-term conditions.
Dr Maeve Durkan, the newly appointed Endocrinologist at the Bons Secours Hospital in Cork, gave a fascinating insight using a case study approach, which provided an opportunity for delegates to consider their decision making skills to decide on appropriate management of patients with diabetes who attend general practice late on Friday afternoons- to refer immediately or initiate some treatment in Primary Care.
Delegates had the opportunity to attend up to three different workshops from a choice of eight, all of which were expertly facilitated by local clinicians:
Case Studies:

Elderly, Poly-pharmacy, Individualised Targets

Dr. Antoinette Tuthill (Endocrinologist,

Cork University Hospital)

Detecting and Managing Atrial Fibrillation in Primary Care

ProfessorStephen Byrne

(Dept. of Pharmacy UCC)

& Fiona Barton (CNS Cardiovascular)

Hypoglycaemia in Type 2 Diabetes

Ms. Angela O'Riordan

(CNS Diabetes, Kerry)

Physical Activity: the new vital sign!

Dr. John O'Riordan (GP, Tower Medical Centre, Cork) & Ms. Shirley O'Shea (Senior Health Promotion Officer, HSE)

Portion Size and Carbohydrate Awareness

Ms. Karen Harrington, (Senior Community Dietitian, HSE North Cork) & Ms. Fiona Rush (Senior Community Dietitian, HSE North Lee)

Preventing Diabetes

Ms. Bernadette O'Riordan (CNS Diabetes Prevention, West Cork)

Supporting Individuals in Achieving Life Style Changes

Ms.Sinead Boyce (CNS Mental Health Cognitive Behaviour Therapist)

The use of ABPM in the diagnosis of Hypertension"

Professor Colin Bradley (Head of Department of General Practice UCC)
Feedback from delegates on the conference content was extremely positive. Delegates felt that the presentations provided an interesting, informative and practical perspective on diabetes management. The content and delivery of the workshops were rated as excellent, informative, practical and motivational. Many indicated that they felt better equipped with new knowledge and skills to inform their management of diabetes in their clinical practice.
This conference is a joint initiative between UCC, the HSE and DiGP (Diabetes in General Practice) and is supported by HSE health care professionals, the pharmaceutical industry, Diabetes Ireland and general practice. There were 26 exhibitors' stands at the conference, including Retina Screen, Diabetes Ireland, HSE Health Promotion Unit, HSE dietetics service, HSE podiatry service, HSE CiPC (Counselling in Primary Care) and NCBI.
A sincere thank you to all our speakers and workshop facilitators, and to Dr Tom Molloy, GP in Charleville and DiGP Director for an excellent job in chairing the conference. Thanks also to the conference committee members: Katie Murphy (DiGP diabetes nurse facilitator), Marie Courtney (HSE Professional Development Coordinator for Practice Nursing), Angie O'Connor (DiGP Diabetes Nurse Specialist), Kira O'Sullivan (Practice Nurse and DiGP Director), Mary Tips (Practice Nurse and former DiGP Director) and Dr Paul McDonald (GP and DiGP Director) who all worked tirelessly to make the conference such a huge success. Also thanks to all the staff at Oriel House Hotel Ballincollig.