Supporting the Public Service
Supporting the Public Service
Social Work During Social Distancing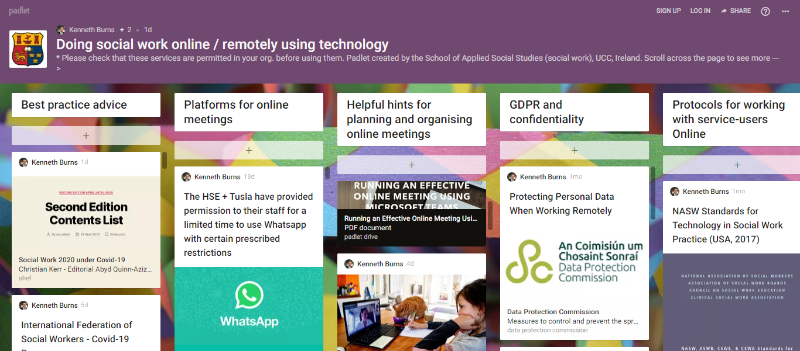 Social work practice is a face-to-face endeavour. With enforced social distancing, the School of Applied Social Studies reached out to professional practice colleagues in the social work sector to help address a critical knowledge gap in how to facilitate social work practice remotely.
With backgrounds in social work practice, Dr Kenneth Burns and Dr Fiachra O'Suilleabhain set out to support the sector, developing this padlet for doing social work online or remotely using technology The 'padlet' collates critical resources, tips and advice including on best practice, GDPR, protocals and other tools for professional practice.
Kenneth and Fiachra engaged the Masters of Social Work students in the intitiative, with students undertaking literature searches and contributing towards content selection. The Padlet is also supported by 1-1 consultations between UCC staff and service managers to supporting them as they problem solve and work through how to safely provide their service remotely using technology. Agencies and services engaging with the consultations include Tusla, Child and Family Agency, HSE and Barnardos.
This long-term project is updated regularly and has received a strong positive response from public sector and community agencies in Ireland and Internationally, with services saying it has met a key need and knowledge gap for social work practice during COVID-19.