ICGS in the Media
ICGS in the Media
Galician Studies around the World in April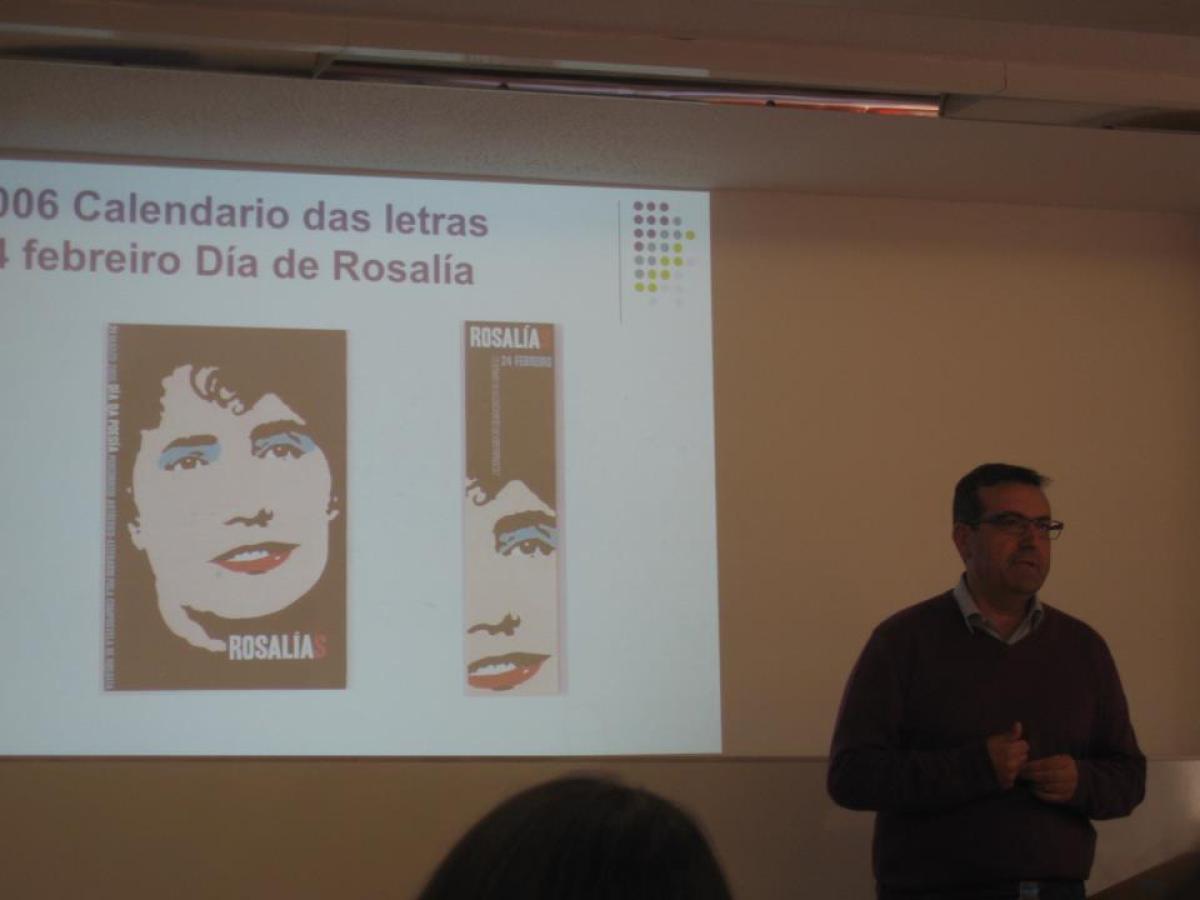 Online newspaper Praza Pública published today a summary of all the events related to Galician Studies during the month of April, two of which were held in UCC.
O mes de abril que vén de rematar resultou excepcionalmente fecundo para os Estudos Galegos, coa celebración de oito encontros académicos en sete países de todo o mundo. Ademais do Congreso da Asociación Internacional de Estudos Galegos (AIEG), celebrado en Bos Aires, houbo congresos en Irlanda, Polonia, Portugal, Reino Unido, Brasil, Estados Unidos e Francia. Alemaña e Estados Unidos organizarán dous eventos máis nos vindeiros meses.
A AIEG destaca "a boa saúde dos Estudos Galegos" , demostrada nestas citas. "Estas citas demostran tamén que os Estudos Galegos se van asentando nas axendas de investigación con estratexias que navegan entre dous polos: dunha banda, eventos académicos que visibilizan a existencia dos estudos galegos, e da outra, a infiltración noutros eidos de investigación, onde as problemáticas de Galiza teñen moito que achegar para a comprensión de fenómenos tan complexos como a migración, a xeopolítica ou a globalización". "Con todo, estes dous eixos de actividade non se exclúen mutuamente e pódense combinar de xeitos diversos para propiciar outras propostas e formatos na internacionalización dos Estudos Galegos". engaden.
A Asociación fai igualmente un balance moi positivo do seu congreso trianual, que tivo lugar en Bos Aires entre os días 6 e 8 de abril. O evento contou con máis de 120 asistentes chegados de Galicia, Arxentina, Alemaña, Brasil, Reino Unido, Polonia e Estados Unidos, entre outros países provenientes de catro continentes. O Congreso contou cunha grande participación por parte da comunidade e do asociacionismo galego en Bos Aires. Durante a celebración da Asemblea Xeral saíu elixida nova xunta directiva da AIEG para o período 2015-2018, encabezada por Carmen Mejía Ruiz, profesora titular da Universidade Complutense de Madrid e responsable do Centro de Estudos Galegos desta cidade. A vindeira edición do Congreso da AIEG celebrarase en Madrid en 2018.
Ademais, nas últimas semanas celebrouse o I Encontro Brasileiro de Estudos Galegos (I EBEG) na Universidade Federal da Bahia (Brasil); a University of Exeter (Reino Unido) celebrou o décimo aniversario da posta en marcha dun panel específico sobre Estudos Galegos dentro da celebración da Annual Conference of the Association of Hispanists of Great Britain and Ireland (AHGBI); en Irlanda, na University College Cork, tivo lugar o simposio Texts and Identities: A Symposium on Contemporary Galician Studies e tamén as xornadas Translation, Language and Performance on the Galician Stage. Tamén houbo unha presenza destacada dos estudos galegos e as súas temáticas en encontros científicos celebrados na Université Sorbonne Nouvelle-Paris 3, na Universidade de Varsovia e na Universidade Nova de Lisboa.
De igual xeito, na University of Wisconsin-Milwaukee celebrouse o simposio Galician Studies North America: Creating Community, Bridging Gaps, abrindo camiño para o vindeiro 2016 cando neste mesmo país terán lugar dous importantes eventos. O primeiro será entre o 7 e 10 de xaneiro, durante a celebración do congreso anual da Modern Languages Association, a MLA Annual Convention, en Austin (Texas), onde Galician Studies terá por vez primeira unha sección propia. O segundo desenvolverase na tamén estadounidense University of Michigan-Ann Arbor, terá lugar o II Simposio Norteamericano de Estudos Galegos: Renovación académica, comunicación artística e innovación social entre os días 20 e 23 de abril. Tamén está aberta a chamada á comunicacións para a sección de Estudos Galegos dentro do 11º Congreso Alemán de Lusitanistas, que terá lugar en Aquisgrán (Alemaña), o próximo 16 de setembro de 2015. O seu título é Cibercultura, linguaxes e medialidade. Hibridación e conflito nos espazos xeoculturais galego e lusófono.