News
News
Tree Explorers grows with new funding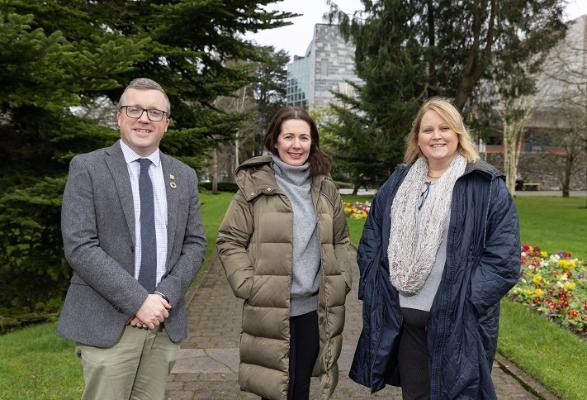 More school children and members of the public will get to learn about the science of the natural world following the UCC 'Tree Explorers' project receiving new funding today. Tree Explorers has secured further funding for this year through the Science Foundation Ireland (SFI) Discover Programme.
Minister for Further and Higher Education, Research, Innovation and Science Simon Harris, and Minister for Education Norma Foley TD have today announced an investment in 47 projects aimed at improving public understanding of science, technology, engineering and maths (STEM).
The €3.7 million funding will be focused on encouraging diversity and inclusion in STEM, while also targeting a wide range of ages including young children, teens and adults.
"We've had such a successful first year" said Dr Eoin Lettice of the School of Biological, Earth and Environmental Sciences (BEES) at UCC. "We're delighted that Science Foundation Ireland have backed this important project for another year. It gives us the opportunity to engage with more people on the importance of trees for building sustainable, healthy and vibrant communities. The feedback from participants in the first year has been overwhelmingly positive and it's a great opportunity for us to celebrate the tremendous UCC Arboretum in all its glory" said Dr Lettice.
Dr Barbara Doyle Prestwich, Head of Plant Science at UCC welcomed the extra funding: "The Tree Explorers projects have been a real success story and this significant extra funding is testament to the central role plants play in building sustainable, healthy cities. It's a wonderful opportunity to engage people with science through the lens of this important and internationally accredited tree collection".
Emma Hutchinson, Research Assistant on the Tree Explorers projects says the funding will allow a significant expansion of activities: "The success of our first year was that we specifically engaged primary school groups with the tree collection. We'll carry on that work this year but also expand our work to secondary school students and particularly transition year students".
Announcing the funding, Minister Harris TD said:
"I am delighted to announce today the 47 projects receiving funding through the Science Foundation Ireland (SFI) Discover Programme.
"These projects will have an invaluable impact, starting conversations about the role of STEM in society and inspiring our young people to explore careers in these areas.
"Through initiatives such as the SFI Discover Programme, we must support the public to have access to, and understand, the issues that impact our collective future, and the role science and technology can play in providing solutions. I wish all the recipients every success in the rollout of their projects."
Speaking of the projects co-funded by the Department of Education, Minister Foley said:
"We are pleased to collaborate with the Department of Further and Higher Education, Research, Innovation and Science by supporting five projects that will receive funding through the SFI Discover Programme.
"These projects are designed to grow and encourage participation in STEM education and public engagement, inspiring our young people to explore STEM roles in the future. I want to congratulate all of the individuals and teams involved in their work to date on these projects."
The Tree Explorers project is based around the unique UCC Arboretum. The Tree Explorers team have developed a self-guided tree tour of the arboretum which you can pick up at the Glucksman Gallery or Visitors' Centre on campus. You can also download a digital version and find out more about the arboretum on the website: https://www.ucc.ie/en/arboretum/