News & Updates
News & Updates
Learning and exchange at National Volunteering Network Conference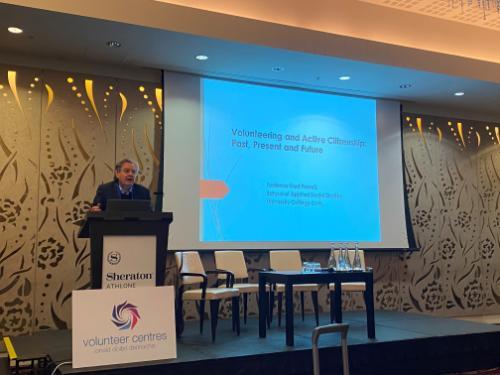 UCC Civic and Community Engagement are pleased to work together with Cork Volunteer Centre throughout the year on projects and initiatives, so committee member Prof. Fred Powell was delighted to provide a key note at the recent National Volunteering Network Conference.
The conference theme was 'Sharing Knowledge: Strengthening the Future of Volunteering in Ireland' and was held on the 11-12th Feb at the Sheraton Hotel in Athlone. Volunteer Ireland is a national organisation that focus on 'Connecting Communities Through Volunteering'. They are supported by the Department of Rural and Community Development and Pobail.
Prof. Powell gave his talk on 'Volunteering and Actice Citizenship: Past, Present and Future.'
Julie Connelly, Manager of Cork Volunteer Centre said the "keynote was thought provoking and insightful. It set the mood for the conference and made us think about why we do what we do!"
With speakers from across the nation, the event provided a valuable space to exchange learning and experience. UCC was also delighted to be able to share learnings from one of our leading civic initiatives CARL (Community Academic Research Links).
Dr. Martin Galvin discusses opportunities for Non Profits to engage and partner with Universities, for example: Community Academic Research Links - @CARL_UCC #NVNConf20 pic.twitter.com/sXvoSXxaVg

— National Volunteering Network Conference (@NVNConference) February 11, 2020
Our thanks to Cork Volunteer Centre Manager Julie Connelly, the conference National Organising Committee and all the contributers and participants for all the insightful conversations and exchanges.
For more on this story contact:
UCC Civic and Community Engagement recently published a research report on Student Volunteering in UCC.
If you are a student interested in volunteering we encourge you to read more on UCC Career Services web pages here.