News & Updates
News & Updates
Connecting people through learning – Cork Migrant Centre and Applied Psychology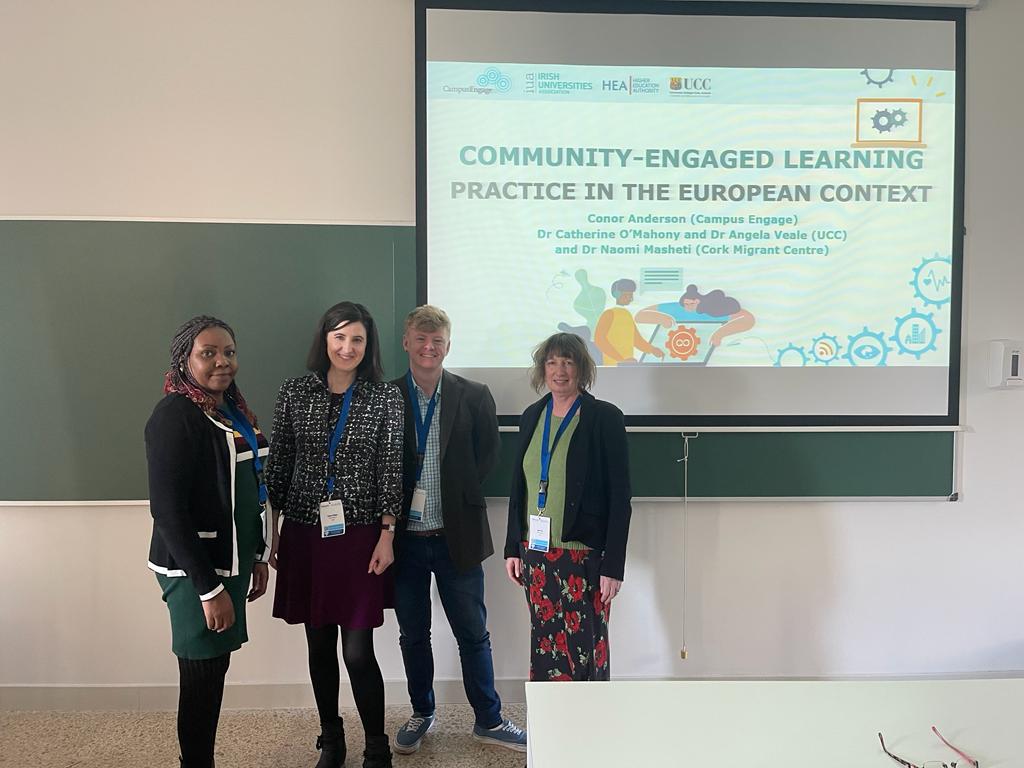 "Connecting people, spaces and realities" was the focus of the EUA's 2023 Learning and Teaching conference in early February. UCC's strength in civic engagement in the curriculum was showcased in an interactive workshop on national strategies to foster community engaged learning and with a focus on a collaboration between the Cork Migrant Centre and the School of Applied Psychology.
Over the past 5 years, Cork Migrant Centre and the School of Psychology have co-run a module on Critical Community Psychology led by Dr Angela Veale, UCC and Dr Naomi Masheti, CMC. The experience of designing a community engaged learning module was shared at the conference as part of an interactive workshop to enable colleagues across Europe to do the same. In the UCC-Cork Migrant Centre partnership the migrant women create pathways for their own integration into life in Ireland, they build their skills and their opportunities for social engagement. The students develop cultural awareness, literacy and sensitivity which is highly relevant for future psychological research and practice. Over the 12 weeks of the module, the students and migrant women engage in a number of activities such as co-operative inquiry, art-making and researching topics suggested by the migrant women. While the module requires some resource investment to run, the benefits are evident and the initial anxiety and fear regarding power imbalances quickly shifts to invigoration and joy. Crucially the module is driven by the migrant women's agenda and activities each year.
This module was one of 6 national examples shared as part of the Campus Engage staff development course on Community Engaged Learning. The Campus Engage course is offered nationally to support all staff who teach to intentionally design their teaching and assessment activities to respond to societal challenges in partnership with community organisations. The EUA Learning and Teaching Forum attracts 200participants each year and provides an opportunity for participants to meet and discuss developments in learning and teaching at European universities. The audience largely includes vice-rectors for academic affairs, deans, and management involved in learning and teaching as well as students, policy-makers and other higher education stakeholders.
Great to share a great collaboration - 'Community-Engaged Learning: Practice in the European Context'. A project in collaboration with the School of Psychology, Irish Universities Association, Centre for the integration & Research, Teaching and Learning (CIRTL). pic.twitter.com/mZymtPq8Ys

— CorkMigrantCentre (@CorkMigrant) February 4, 2023
Participation in the EUA Learning and Teaching forum event was funded through UCC's Civic Engagement Office and CIRTL.