Blog
Blog
Wilder Winds – A conversation with writer Bel Olid and translator Laura McGloughlin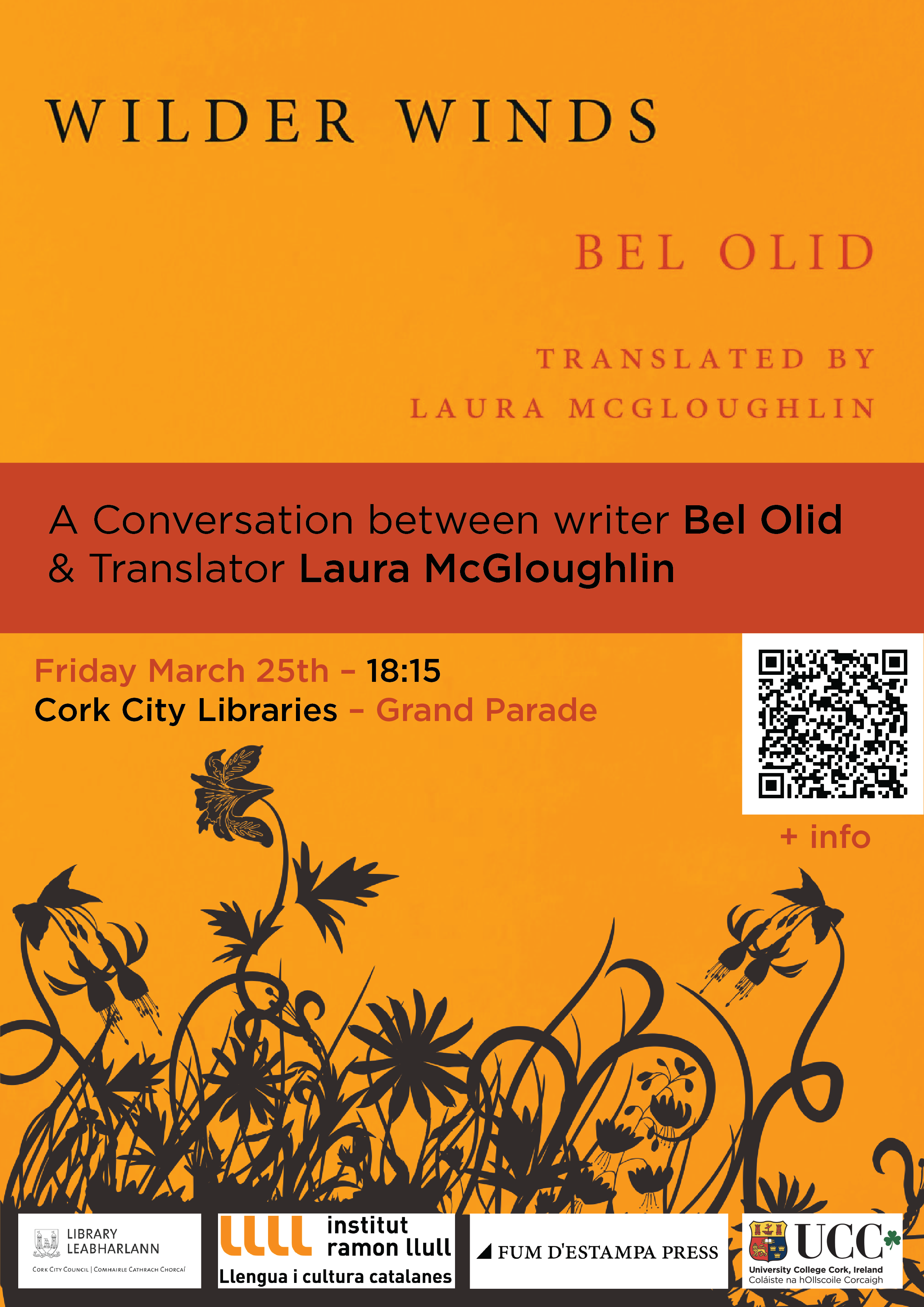 Friday March 25th – 18:15 – Cork City Libraries
The Department of Spanish, Portuguese and Latin American Studies is pleased to invite you to an event with Catalan writer and LGBTQ activist Bel Olid, in conversation with UCC alumna and translator Laura McGloughlin, on the ocasion of the publication of Wilder Winds, McGloughlin's English translation of Olid's short story collection Vents més salvatges in Catalan.
Friday March 25th – 18:15 – Cork City Libraries
Laura McGloughlin is a UCC alumna and translator of Spanish and Catalan literature. As well as her recently acclaimed translation of Wilder Winds, she has translated works by Flavia Company, Marta Barbal, Lluïsa Cunillé, Joan Brossa and Tom Hill Gumbao. We are pleased to welcome her back to UCC to participate in two events on Friday 25th March 2022: a translation slam led by translator-in-residence Clara Martinal, from 3 to 5pm, and a reading and presentation with the author of Wilder Winds/Vents més salvatges at 18:15 in Cork City Library on Grand Parade.
Bel Olid is a creative writer, translator, university lecturer and LGBTQ activist. As well as the short story collection, Wilder Winds, they have published prize-winning works for children and young adults, including Les heroïnes contraataquen (The Heroines counter-attack, 2013), essays on feminist and gender studies, such as Feminisme de butxaca (2017), Follem?(2019) and A contrapel (2020), and the Catalan translation of Judith Butler's Gender Trouble. They contribute regularly to public debates on gender equality and inclusion, intersectional feminisms, body positivity and sexuality. Their work, as in Wilder Winds, ranges across a diversity of women's worlds, from early adolescent awakening of lesbian sexual desire to the ravages of different forms of patriarchal violence and attention to moments of resistance, care and solidarity.
Praise for Wilder Winds:
"Bel Olid tells you the most terrible things in the most beautiful way."—Marta Rojals, author of L'altra

'Wilder Winds is a scintillating collection of beautifully ugly truths, and whilst it denounces much, it also celebrates what it means to be a fully realised, autonomous human being. If you seek a small book packing an enormous, intellectual and emotional punch, look no further.' —Paul Spurlock-Mulding for The Yorkshire Times
'Every word, every image is packed with meaning, and there are a great variety of voices: a young girl in a refugee camp, women of all ages, coming of age, migrants, revolutionaries, workers, mothers, voyeurs, women being catcalled on the street and more.' —Marina Sofia for the Finding Time to Write Literary Blog
'Intense and intelligent, interesting and affecting, Wilder Winds resonates with the reader in countless ways. It's difficult to convey how impressive the writing actually is, but I thoroughly recommend this humane and humanising collection.' —Linda'sBookBag
Copies of the book will be available for purchase at the event in Cork City Libraries or via Lowercase bookshop on UCC campus.