Blog
Blog
Annihilation and The State of Extinction. A Lecture, Performance and Q&A by Professor Brad Evans and Chantal Meza-10-11 February 2020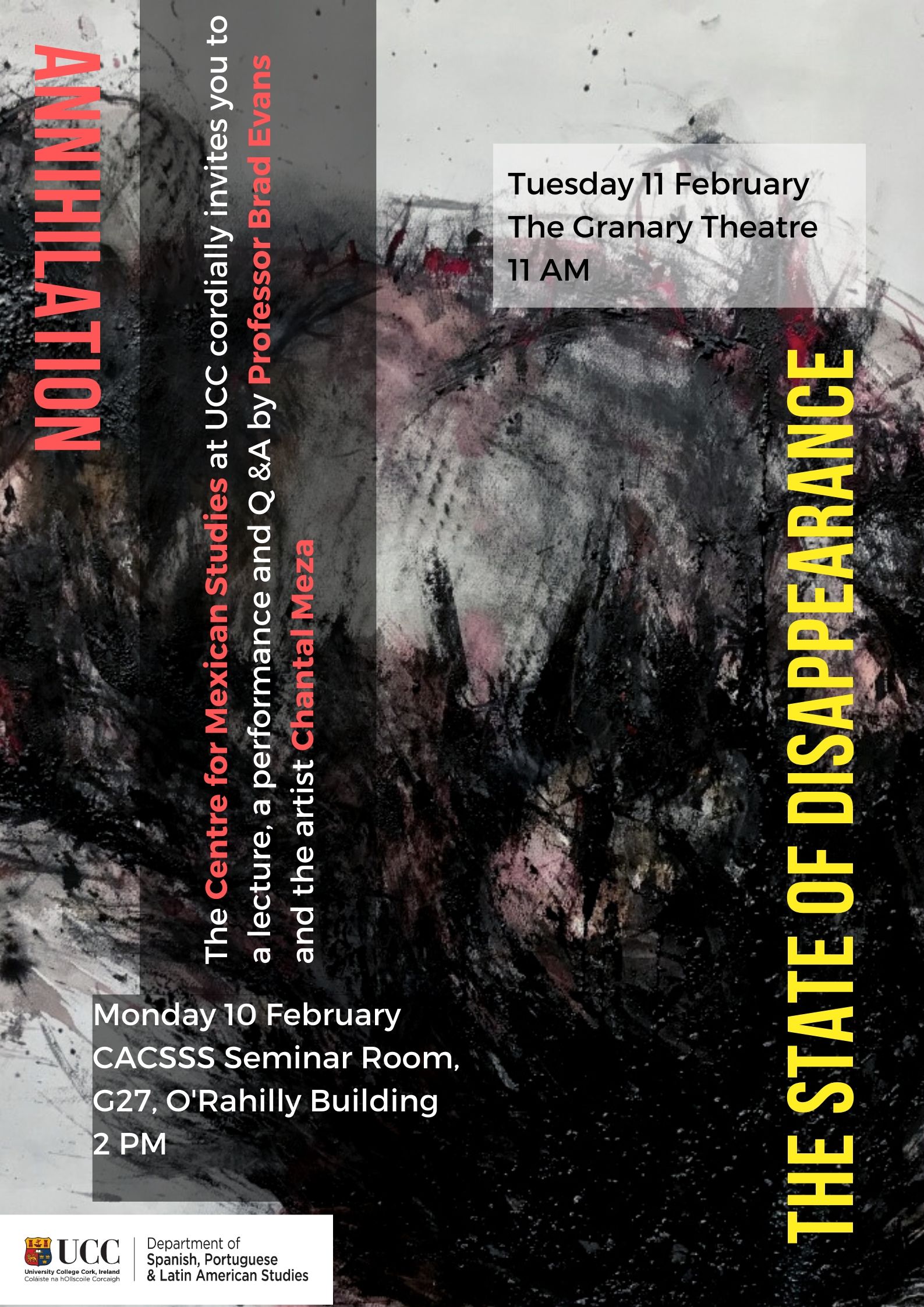 A lecture, performance and Q&A by Professor Brad Evans and artist Chantal Meza, organised by the centre for Mexican Studies UCC.
Annihilation
2pm, Monday 10 February, CACSSS Seminar Room (O'Rahily Building G27)
What does annihilation actually mean? And how does it relate to human dissapearance? This lecture will address these questions in order to expose the limits of our political, philisophical and aesthetic understanding and what it means to consider the void of existence.
---
State of Disappearance
11am, Tuesday 11 February, Granary Theatre
State of Disappearance is a collaborative response to the problem of human denial. Bringing together critical theory with contemporary art, the project brings attention to the many ways disappearance occurs, and in the process asks about the importance or limits of the arts, humanities and critical enquiry when it comes to responding to the problem of violence in the world today. State of Disappearance takes us to the heart of any meaningful discussion on what it means to be human and encourages us to confront more critically what freedom in the face of its total annihilation means.
---
Brad Evans is a political philospher, critical theorist and writer whose work specialises on the problem of violence. The author of some ten books and edited volumes, along with over fifty academic and media articles, he serves as Professor of Political Violence and Aesthetics at the University of Bath, UK.
Chantal Meza is a Mexcian abstract painter with a growing international reputation for her powerful and emotive mindscapes, which deal with the intimate realities of life's beauty and pain. Her works have been exhibited in more than 20 collective and individual exhibitions in the Mexican Republic in museums and galleries. More recently her work has featured in a number of prominent international media outlets, including numerous uses of her works to accompany leading articles in the Los Angeles Review of Books, onto personal features in La Jornada and ArtLyst.