ACE at UCC is delighted to announce two new Summer Schools for 2013

ANCESTRAL CONNECTIONS: NAMES, PLACES AND SPACES
This genealogy summer school offers a complete course in the latest Irish genealogy research, as one would expect from a summer school held in UCC, one of the world's leading universities. All aspects of the subject are covered by a series of presentations and 'hands on' workshops given by a selection of Ireland's leading genealogical lecturers and experts. The latest online and offline sources are described and explained in presentations which will be of great interest to the seeker of Irish roots and family history, whether beginner or expert.

PRIDE AND PREJUDICE IN AN IRISH COUNTRY HOUSE
A University College Cork and Irish Heritage Trust Summer School at Fota House, Carrigtwohill, Co. Cork.
To celebrate the 200th anniversary of the publication of Jane Austen's Pride and Prejudice, UCC and the Irish Heritage Trust will offer a week-long summer school in one of Ireland Regency gems, Fota House in Co Cork. The school will draw on the scholarly expertise of the University to explore the society, style, culture, food and of course the literature of the Regency period. Internationally respected garden historian, Letta Jones, will also contribute to the programme, taking Fota's world renowned arboretum, pleasure gardens and frameyard as her backdrop.

READ MORE ....
Adult Continuing Education (ACE) offers accredited programmes and short courses for the adult learner. All programmes and courses with the Centre are designed to provide lifelong learning for adults regardless of age and previous academic achievements.

Programmes with ACE are offered for those who:
Want to return to education
Want to develop their community skills and knowledge
Want to explore topics of specific personal interest
Want to avail of Continuing Professional Development programmes for knowledge and skills advancement in the workplace
ACE offers a varied range of accredited programmes which are modularised and on the National Framework Qualification (www.nfq.ie) at the following NFQ and credit levels:
| | | |
| --- | --- | --- |
| | Level 6 | 25-30 |
| | Level 6/7 | 30-60 |
| | Level 7 | 60-120 |
| | Level 8 | 60 |
| | Level 9 | 60 |
| | Level 9 | 90 |

For full listings of all courses please visit http://study.ucc.ie/ace/

Short Courses
Adult Continuing Education offers a broad range of short courses throughout the academic year. The nature and variety of courses has diversified greatly over the last five years and we now offer leisure, special interest and continuing professional development courses to students over 21 years of age. There are no additional entry criteria: simply participants may choose to enter one of our courses if they wish to strengthen their prior interest in a particular area or indeed if they wish to extent further their emerging interest in a subject, be it for personal or professional reasons.
Dear Student,
Adult Continuing Education (ACE), University College Cork has been offering education programmes to Cork and the greater Munster area since 1946 and is proud to celebrate 65 years of educational services to the community. The first Diploma in Social and Economic Science course was formally opened at a public meeting in University College, Cork on the 14th October, 1946 and 24 students were awarded the diploma in June 1948.

Since then, Adult Continuing Education's purpose is to provide opportunities in lifelong learning for all adults irrespective of age and previous educational achievements. This website introduces you to the many programmes on offer and I hope you will find some area of interest here.

Some students may be uneasy about coming to the University for a variety of understandable reasons. I want to reassure you that we attempt in all courses to cater for the particular needs of adult learners. Our staff adopt the particular approach needed to enhance adults' learning so that all students may have a rewarding educational experience.

Finally thoughtful feedback is always welcome, so please feel free to express your views to Adult Continuing Education or to any staff member on the programme you have studied.

Wishing you all the best in your studies in ACE.

Dr Seamus O'Tuama
Director
Adult Continuing Education, UCC
CLICK ANY IMAGE
TO WATCH THE VIDEOS
(VIDEOS OPEN IN
A NEW SCREEN)

Celebrating 65 Years

The Culture of the Big House II
Click to watch

The Culture of the Big House I
Click to watch

Medieval Dine with St. Patrick
Click to watch

Christmas Special 2011
Click to watch

Introducing Opera Short Course
Click to watch

Introduction to Wildlife Short Course
Click to watch
Job seekers in Cork will be able to avail of nine free courses at University College Cork through the national Springboard initiative
The primary Objective of Springboard is to help unemployed and previously self-employed people to remain as close as possible to the labour market by accessing part-time flexible higher education and training opportunities to up-skill or re-skill in areas where sustainable employment opportunities may arise as the economy recovers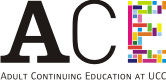 4 good reasons to study with ACE
+ Over 65 years delivering Lifelong Learning Programmes
+ Opportunity to study at one of Ireland's 5* Universities
+ Highly motivated staff dedicated to maximising your learning experience
+ Diverse range of courses leading to recognised NFQ qualifications