Courses
Courses
Student Project Weeks, Algarve (Aljezur), Portugal from 15-28 September 2021
Presuming that each national Government guidelines as well as institutional authorities will allow non essential travel abroad in September 2021, there is a potential opportunity for you to take part in an international interdisciplinary field course in the Algarve, Portugal.
ERASMUS+ project (IFiT) is a partnership between the University of Lisbon (Portugal), University of Osnabruck (Germany), CERES and University College Cork. The aim of this project is to develop innovative multidisciplinary field courses with a special emphasis on peer and shared learning. As
part of this project, you have the opportunity to take part in an international interdisciplinary field course (with geologists, geographers, zoologists, ecologists, botanists and environmental science students from at least three different EU countries). This innovative field course will take place in the Algarve (Aljezur), Portugal from 15th-28th September 2021. This course will give you the opportunity of working in multidisciplinary teams,
which may be important in your future careers. The ERASMUS funding covers flights, accommodation and food.
Information about travelling from Ireland to Portugal for those who have/not been vaccinated are available at https://reopen.europa.eu/en/from-to/IRL/PRT If you are a postgraduate research student you may be able to gain 10 credits for partaking in this course while all students may be awarded a digital badge from UCC on completion.
If you are interested, please first have a look at one of the following links, which give you more details about the site and what will be covered in the field course. On the webpage, the information is in the Blog and Gallery links.
Webpage; http://ifit.ucc.ie/
We hope that will be able to send UCC students, so if you are potentially interested please reply by
return email to f.butler@ucc.ie with the completed application form (with CV).
If you would like more information before deciding whether you would apply, please email Fidelma Butler (f.butler@ucc.ie), Bettie Higgs (B.Higgs@ucc.ie), or Allen Whitaker (a.whitaker@ucc.ie).
Field Course Coordinator Workshop 5-8 October 2019
(Course application contact your National Partner)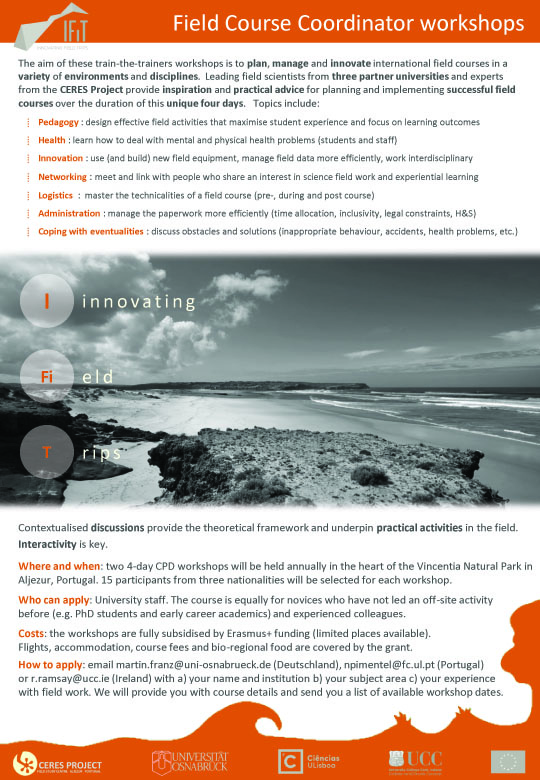 2019 IFiT Field Course 20 May - 2 June 2019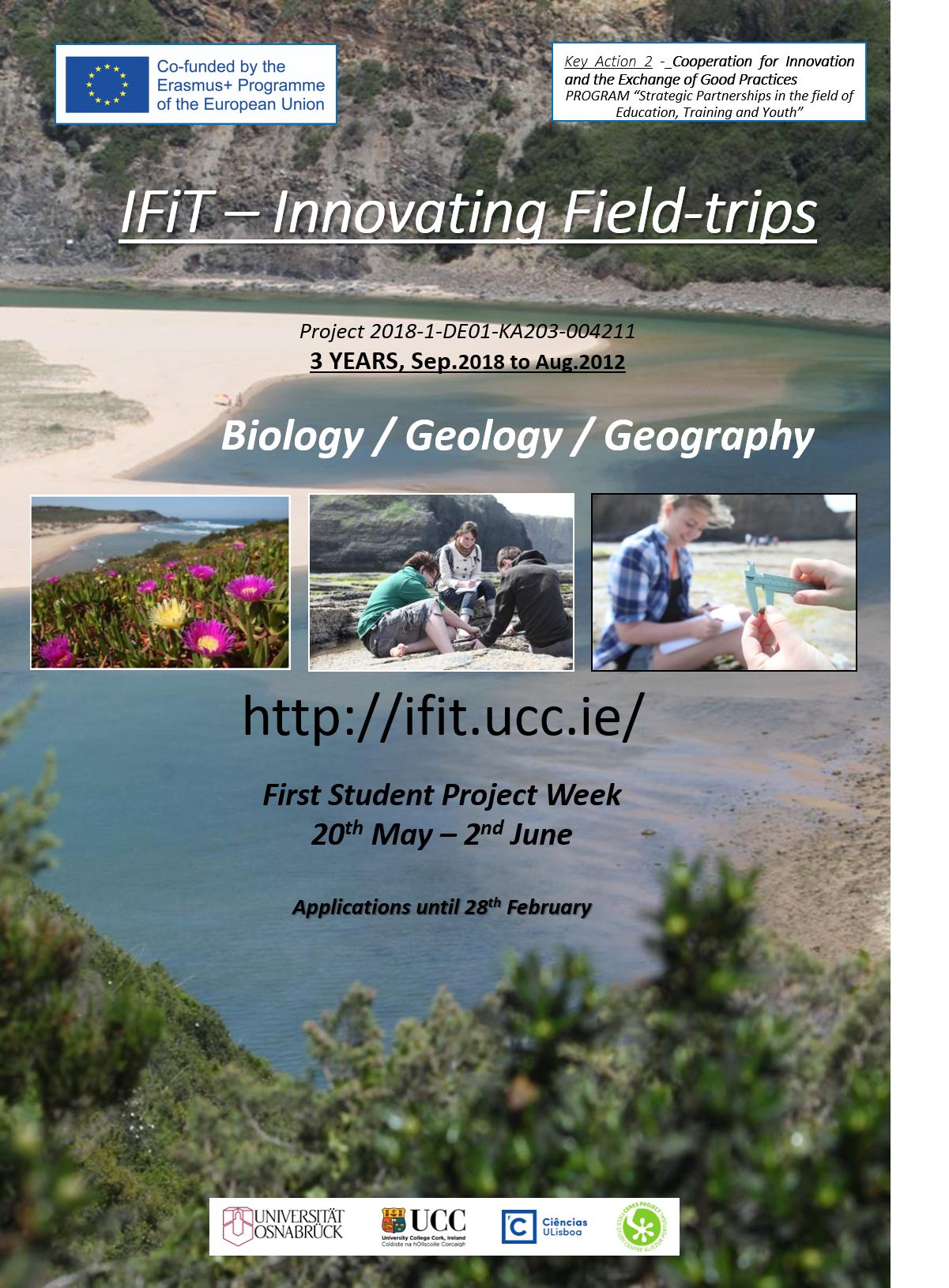 The IFiT project will provide a comprehensive staff development course for field-course leaders that includes course design underpinned by evidence-based pedagogy together with essential logistics to lead or facilitate interdisciplinary, international, residential field courses.
Undergraduate field courses that facilitate interdisciplinary, international teams of students working together to research and gain insights into real world challenges in preparation for professional practice. Assessment design will encourage students to build integrative thinking and learning skills.