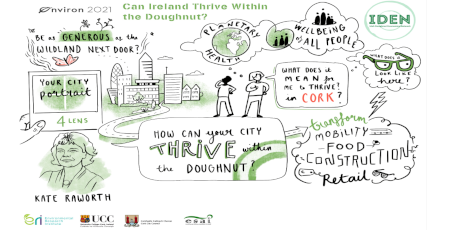 As part of our ongoing Greening Our City webinar series, we welcomed the public to join us at Environ 2021, the 31st Irish Environmental Researchers Colloquium for a co-keynote talk from Kate Raworth (author of Doughnut Economics), environmental economist focused on exploring the economic mindset needed to address the 21st century's social and ecological challenges, and Roisin Markham, founder and network steward of the Irish Doughnut Economics Network (IDEN).
Chaired by ERI's Dr Ger Mullally, lecturer and Deputy Head in the Department of Sociology and Criminology in the School of Society, Politics and Ethics, Kate and Roisin provided an overview of the Doughnut Economics model and discussed how this could be applied in an Irish context.
In case you missed this keynote, you can watch the full recording https://youtu.be/dsa_MK-XNh0 or here now:
Kate and Roisin have also generously shared their slides, which can be downloaded here:
If you would like to join IDEN or just keep connected with their activities, feel free to sign up here
Cork-based artist Eimear McNally provided a wonderful graphic harvest of the webinar conversation, you can watch the full recording of Eimear's work in action https://youtu.be/ySviRL8Qljw or here:
This session was kindly sponsored by Cork City Council.