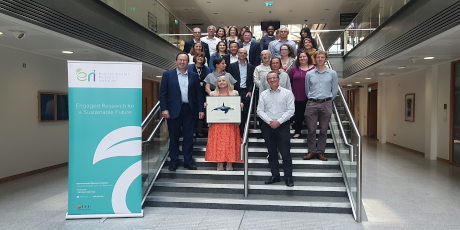 The UCC Environmental Research Institute received a total of €20,421,926 in new funding in 2022 for 83 new projects, due to the tireless efforts of researchers preparing and submitting research grants to national, EU and international funding agencies. In May 2023, we acknowledged the hard work of our research community with a series of presentations from successfully funded recipients, highlighting the scope of the research that will be carried out over the next 2-4 years.
Introducing the presentations, the ERI's Funding Coordinator Dr Sonia Monteiro framed the event as a moment to recognise the time, effort and success of researchers from many different disciplines. Dr Monteiro provided unwavering support to each researcher throughout the past year, guiding many through the diverse requirements of the many research calls.
Outgoing ERI Director Professor Sarah Culloty, who is also Head of the College of SEFS, remarked in her opening address "The ERI has been on an incredible journey over the last few years, and today we are celebrating the people who have done so much to make the ERI so successful and to ensure that sustainability is such a priority. Everything we do around sustainability in UCC is underpinned by research and the ERI has made us key players in this on the national and international stage."
Incoming ERI Director, Prof Brian O'Gallachoir reflected back on the Institute's development over the last two decades "We have had a very fruitful period of growth over the last 23 years, a testament to our collective journey and vision. Now UCC Futures – Sustainability will contribute more expertise, and areas of leadership and I look forward to that new journey."
The UCC Futures – Sustainability programme has seen 27 new positions become filled within the ERI in 2022/23. These academic posts are a key part of the second phase of the UCC Futures recruitment programme. Building on the ERI's existing significant expertise and capacity in the area of Sustainability, this programme of recruitment will drive a creative, inclusive, and interdisciplinary approach to this area and provide transformative leadership that will further enhance UCC's outstanding research and research-informed teaching.
Amongst many, many projects presented at the event, this small sample showcases the diversity of research across our disciplines:
For a full list of all of our new research projects please visit Our Research Projects database