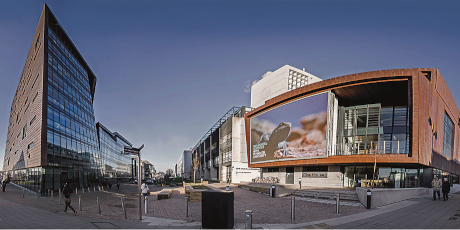 The newly launched Climate and Sustainability Doctoral Training Partnership (DTP) sees UCC collaborate with the University of Plymouth (UoP) to deliver a total of six funded PhD studentships responding to the climate crisis.
The theme of the partnership will be Enabling our regions to meet the challenges, and realise the opportunities, from the climate crisis, and will leverage the expertise and reputations of both institutions for world-leading and award-winning sustainability research and teaching. UoP has been named as one of the top 25 institutions globally in the Times Higher Education (THE) Impact Rankings 2021, while UCC was named 8th in the THE rankings in 2021. Both UCC and UoP have significant institutional capacity for research in sustainability, environmental and marine exemplified by centres such as the Sustainable Earth Institute and Marine Institute at UoP, and ERI and SFI MaREI Centre at UCC.
To build on existing partnerships and establish new areas of research collaboration, UoP and UCC are establishing a joint Doctoral Training Partnership (DTP) which will commence in October 2022. The DTP will focus on research related to climate and sustainability with a particular emphasis on leveraging the combined experience and expertise of UCC and UoP, and referencing their specific geographies. The DTP will promote excellence in research through the training of a cohort of inter- and trans-disciplinary doctoral students and the fostering of collaboration between the two universities.
The DTP will host six PhD students of whom three will be registered at UoP and three at UCC. All six students will have supervisory teams comprising academic staff from both institutions.
Within University College Cork successful candidates will be awarded a studentship for 3 years which covers fees, stipend (non-taxable stipend of €18,500 per year) and funding to cover research costs (€4000). A discrete annual travel/collaboration budget between UCC-UoP will also be available. Please see below for UCC based projects.
Please visit this link for University of Plymouth based projects.
UCC Project 1: Sustainability [Framings] for Transformative Change; Investigating the value/potential of Stories and Shared Narratives in Reimagining respective South West Port Cities and Coastal Communities
Lead Supervisors: Prof. Edmond Byrne (e.byrne@ucc.ie), University College Cork
Co-Supervisors: Dr Nichola Harmer, School of Geography, Earth and Environmental Sciences and Sustainable Earth Institute, University of Plymouth
Lead School and Institution: School of Engineering and Architecture and Environmental Research Institute (ERI), University College Cork
Primary location: Cork, Ireland
Project Description: Cork and Plymouth share similar geographies and climates; similarly sized South-West port cities, adjacent to coastal towns and communities with particular regional challenges of peripherality and uneven development/inequality. Both regions share distinctive sustainability traditions e.g. pioneering Transition Towns (Totnes, Kinsale). Regional, national and international climate change and sustainability imperatives will impact profoundly in realizing required transformation.
Stories, metaphor and narrative are foundational for transformational change. Applied worldviews and framings and associated thinking/perspectives lead to quite contrasting sustainability futures and outcomes. To attain and sustain required deep societal transformation, the development of new stories and framings are best realized through participatory engagement with local communities, citizens and stakeholders. This requires explicit acknowledgement of a transdisciplinary imperative/ethos, involving humanities/social scientists and scientists/engineers as necessary partners. Local experiential knowledge and associated positive stories ('wins') may usefully be shared for inspiration and application in other local contexts.
This PhD will consider respective sustainability framings and associated emergent stories that may resonate and amplify at different scales (local/regional/national), providing architectures for sustained transformative comparative change across respective South-West [Irish/British] regions, while seeking to inspire new stories to underpin reimagined coastal community and hinterland transformation.
Candidates with an inter/transdisciplinary aptitude, relevant research competences, and a degree in Geography, Social Sciences/Humanities, Engineering/Architecture, Environmental/Ecological Sciences are sought.
The work will be primarily based out of UCC's Environmental Research Institute, drawing from ERI's stimulating, transdisciplinary oriented research community, while it is envisaged there will be significant on-site presence/engagement with UoP through its School of Geography, Earth and Environmental Sciences.
UCC Project 2: Development of methodologies and tools for determining financial and socio-economic impacts associated with floating windfarm developments in the Celtic Sea
Lead Supervisor: Dr. Jimmy Murphy (jimmy.murphy@ucc.ie)
Co-Supervisors: Dr. Declan Jordan (UCC), Dr. Michael O'Shea (UCC), Prof. Deborah Greaves (UoP), Dr. Martyn Hann (UoP)
External Advisor: Dr. Val Cummins (SimplyBlueGroup)
Lead School and Institution: School of Engineering, University College Cork
Primary location: Cork, Ireland
Project Description: This PhD project will both develop and implement new approaches and tools to examine how floating wind development in the Celtic Sea can maximise the benefits to the Irish and UK supply chain and local/national economy. The aim is to provide new knowledge on how to strategically develop a renewable energy sector and will provide recommendations for future development. The study will show the sensitivity of technology selection on potential for local content and each scenario examined will provide relevant financial and socio-economic indicators. The study will require a wide range of input data (site, environmental, costs, offshore operations, socio economic, technology) and industry interaction and previous work undertaken in UCC and UoP will be leveraged in this respect. It will be carried out for the Irish and UK parts of the Celtic sea and develop scenarios for development.
The desired candidate should have:
An undergraduate /masters qualification in a discipline related to the topic of the PhD.
An existing knowledge of the offshore wind sector and particularly floating wind.
A capacity to work on both engineering assessment and financial/socio economic analysis
Ability to develop the necessary tools required for the analysis
Be proficient in data analysis
UCC Project 3: Restoring Atlantic oak rainforests - strategies and public perception
Lead Supervisors: Dr Markus Eichhorn (markus.eichhorn@ucc.ie), University College Cork
Co-Supervisors: Dr James Buckley (School of Biological and Marine Sciences, UoP), Dr Mary O'Shaughnessy (Cork University Business School, UCC), Dr Thomas Murphy (School of Geography, Earth and Environmental Sciences, UoP)
Lead School and Institution: School of Biological Earth & Environmental Sciences, University College Cork
Primary location: Cork, Ireland
Project Description: Atlantic oak woodlands are fragmented and degraded habitats in both the UK and Ireland. Demand is growing for their restoration for carbon storage, biodiversity conservation and ecosystem service provision. Attempts at restoration have thus far followed idiosyncratic approaches. In this project we will assess their progress and draw broader lessons for the current UN Decade on Restoration.
Successful forest management is as much about people as trees, and this project will combine (a) vegetation surveys to assess the trajectories of forest succession and assess their long-term viability in the face of climate change, invasive species and other stressors, with (b) stakeholder surveys to determine the perceptual, regulatory and financial barriers to forest establishment, and identify the expectations and goals of landowners. Project outputs will include best-practice management and policy strategies to enhance the uptake and effectiveness of restoration.
We seek a student with a background in one (or more) of the following areas: conservation; terrestrial ecology; sustainable rural development. The student must have excellent communication skills and be able to work in a trans-disciplinary project, placing equal emphasis on the ecological and social aspects of the research, and be willing to develop additional skills. Desirable skills include plant identification; vegetation surveying; statistical programming in R; GIS; report writing; qualitative research methods; valid driving licence (for reaching field sites).
The student will be registered at University College Cork but will conduct fieldwork in the UK and Ireland, spending time with supervisors in Plymouth as required by the project.
UCC Project 4: Sustainable, Healthy & Liveable Future Cities: Harnessing New & Emerging Technologies to Understand Dynamic Human-City Interactions & Inform Responsive Urban Environmental Health Policies
Lead Supervisors: Dr Marguerite Nyhan (marguerite.nyhan@ucc.ie), Senior Lecturer in Environmental Engineering & Future Sustainability and Director of the Future Sustainability Research Group (www.nyhanlab.org), University College Cork
Co-Supervisors: Professor Katharine Willis, Professor of Smart Cities & Communities, School of Art, Design & Architecture, University of Plymouth
Lead School and Institution: School of Engineering, University College Cork
Primary location: Cork, Ireland
Project Description: With rapid global urbanisation, there has never been a more urgent time to optimise and improve urban environmental health and the liveability and sustainability of cities. Additionally, with the recent digital revolution and advances in artificial intelligence (AI), new approaches to the study of the urban environment and complex human-environment interactions have emerged.
This PhD project involves developing an intelligent data- and AI-driven urban dashboard and smartphone application for maximising urban environmental health. This will be tested in Living Labs in Cork City and Plymouth. The approach will quantify urban environmental metrics, human mobility, urban exposures and human health and then model complex human-environment-health interactions through an urban analytics lens. While the project will inform and support responsive citizen behaviour and urban planning for optimising environmental health, it will also critique the role that technology plays in terms of ethics and urban equity. As such, this interdisciplinary project will yield ground-breaking insights into whether environmental health can be managed intelligently and fairly at citywide scales.
The candidate will have at least a Second Class Honours Grade 1 (2.1) degree in engineering, computer science or a similar discipline. S/he will have a strong interest in how new and emerging technologies can solve urban sustainability challenges, be creative, highly motivated and interested in interdisciplinary research across engineering, computer science, the arts and social sciences.
This project places technology and nature at the heart of urban decision-making, recognising its role in shaping a sustainable and healthy future.
UCC Project 5: Characterisation of the Celtic Sea shelf using digital sea floor geomorphological and geophysical mapping approaches
Lead Supervisors: Dr Riccardo Arosio (rarosio@ucc.ie) and Professor Andy Wheeler (a.wheeler@ucc.ie), University College Cork
Co-Supervisors: Martin Stokes and Ian Selby, University of Plymouth
Lead School and Institution: School of Biological, Earth and Environmental Sciences, University College Cork
Primary location: Cork, Ireland
Project Description: The Celtic Sea is a key area for future development of renewable energy and aggregate resource by the Irish and UK governments. Its seabed geomorphology and near surface geology are critical to engineering and extraction plans, as well as informing on ecological habitat mitigation. Surprisingly, its seabed geomorphology lacks detailed and comprehensive characterisation using modern methods, which forms the focus of this PhD. The research will accordingly develop and apply high resolution digital sea floor geomorphological mapping approaches. Mapping outputs will be integrated with existing geophysical and geotechnical engineering datasets to construct 3D sea floor ground models for use by engineers, habitat ecologists and other net zero and blue economy stakeholders.
The work on this project will involve:
Training by experts in geomorphological mapping, seismic stratigraphy and sedimentology. Learning to use professional software as ESRI ArcGIS Pro and Kingdom Suite.
Modelling past environments and contributing to a better understanding of the competing fluvial, glacial and marine processes that have shaped the seabed of the Celtic Sea.
Exciting fieldwork in the Celtic Sea aboard a research vessel and participation at international conferences.