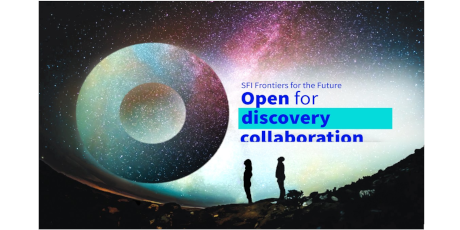 Congratulations to our ERI researchers from the ERI who have collectively secured almost €2.5m in funding through Science Foundation Ireland's (SFI) Frontiers for the Future initiative.
The funding is part of a total of 76 grants valued at €53.7 million to support frontiers research across ten Higher Education Institutions through Science Foundation Ireland (SFI).
The SFI Frontiers for the Future Programme supports the development of world class research capability and human capital in areas of science, technology, engineering and mathematics (STEM) that demonstrably support and underpin enterprise competitiveness and societal development in Ireland.
The ERI Academics who received the awards are:
Prof Andy Ruth (CRAC, Dept of Physics) and Prof John Wenger (CRAC, School of Chemistry)
Dr Gerard McGlacken (School of Chemistry)
Prof Maria McNamara (BEES, iCRAG)
"We will develop new optical technologies that will be used at the national Irish Atmospheric Simulation Chamber in UCC and in field experiments to measure and quantify the concentrations of specific radicals in the atmosphere. Through the simulation of daytime and night time scenarios new insights into the role of these highly reactive trace gas species on atmospheric composition and dynamics will be established, together with their impact on air quality and climate."
Prof Andy Ruth & Prof John Wenger
Dr Gerard McGlacken
" The pharmaceutical industry has become very reliant on precious metals as catalysts. This SFI funded project: SOS Earth (Sustainable Organic Synthesis using Earth Abundant Metals for Critical Pharmaceutical Processes) will help obviate our dependence. The problem is that the mining of many precious metals is unsustainable. It is noteworthy that Russia is a major supplier of palladium and platinum for example, so in addition to the environmental concerns of extensive mining, there are also geopolitical issues. Earth-Abundant Metals provide a much more sustainable source. We will develop important chemical processes that utilise Earth-Abundant Metals."
Prof Maria McNamara will be joined by new PhD student Aaron Quigley as part of her funded project. Maria, Aaron and colleagues will investigate how, and why, melanin evolved in vertebrates, by better understanding the biology of melanin in modern-day vertebrates and how this is impacted by aspects of the fossilization process.
"Prof. Maria McNamara will work on the evolution of the pigment melanin in vertebrate animals, characterising melanin chemistry and biology in diverse vertebrate animals, and testing new tools to shed light on the causes of melanoma (skin cancer)."
ERI Director and Head of SEFS Professor Sarah Culloty, Head, College of Science, Engineering and Food Science said:
"I would like to congratulate our researchers from the College of Science, Engineering and Food Science on securing this transformative funding which will enable them to lead in new areas of discovery that advance our mission of supporting the delivery of superior quality research that provides tangible impact on the world".
UCC President Professor John O'Halloran welcomed the funding announcement:
"I'm delighted to see the hard work of our frontrunning researchers recognised with this grant success. We recently launched UCC Futures as part of our ongoing commitment to leading research - an ambitious programme of academic recruitment that will build a foundation for scholarly, economic and societal resilience and prosperity.
"UCC Futures will sharpen our research profile, support the development of multi-disciplinary networks, strengthen UCC's position as an outstanding place to conduct research, and further develop our curricular offerings," he said.
Professor John Cryan, Vice President for Research & Innovation at UCC said:
"I would like to congratulate these 12 talented researchers on their success in this prestigious call. Such awards help to address global challenges in key areas of sustainability, pharmaceuticals, vaccine development and brain science and are in line with our ambitious UCC Futures programme which is securing our future through excellence in research."
The SFI Future Frontiers Programme programme is run in collaboration with Geological Survey Ireland and the Sustainable Energy Authority of Ireland (SEAI) who are co-funding a number of the grants.