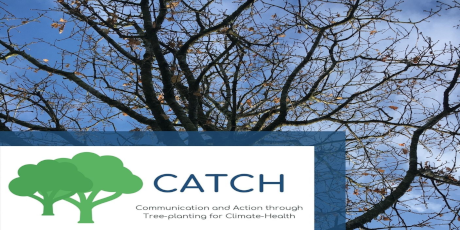 Join us for a half day online event communicating climate change, impacts to human health, climate action with co-benefits, tree-planting and more, as part of the CATCH project.
With opening address from Éanna Ní Lamhna (President of the Tree Council of Ireland)
And featured speakers including:
Dr Eoin Lettice (UCC)
Dr Ríona Walsh (Irish Doctors for the Environment)
Dr Darren Reidy (Acting Sustainability Officer UCC)
Dr Annalisa Setti (UCC)
Dr Christie Godsmark (UCC)
Maria Young (Green Spaces Cork)
Ted Cook (Macroom Environmental Group).
Date: Thursday 13th May 2021
Time: 10:00 – 12:00
Venue: MS Teams
One of the main purposes of the CATCH project is to communicate climate change and its impact on human health (climate-health) as well as communication on climate action that strives to deliver climate and health co-benefits (actions that have benefits for both the climate and human health). This communication will take place through the online event and a short animation film will also be produced to further communicate climate-health and climate action highlighting the importance of co-benefits. A large focus of the project is on the environmental and health benefits of green spaces and trees. Through the CATCH project, twenty participants from the local community will be given a tree for them to plant and care for.
Funding received from the Irish Research Council New Foundations