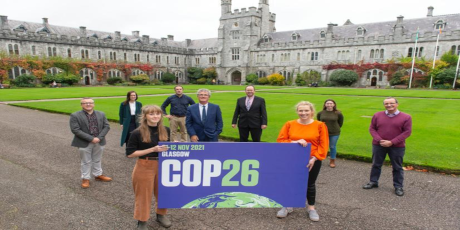 "COP26 needs to be decisive. Whether future generations look back at this time with admiration or despair, depends entirely on our ability to seize this moment. Let's seize it together." - Alok Sharma Cop President-Designate
Why is UCC in attendance?
UCC - as the only Irish university with official observer status at the United Nations COP26 conference - sent a delegation of researchers and students to the global summit in Glasgow. As the first week of COP26 draws to a close, we take a look back at some of the experiences of the UCC delegation so far.
Prof Brian O'Gallachoir who is leading the delegation, spoke to RTE News about the significance of UCCs involvement, "In UCC, we are doing research on the required solutions to deliver on this political ambition. As individual countries bring increased ambitions to COP26, I'm hoping to see stronger commitments to action from Governments to match their ambitions and to deliver the necessary solutions, including from Ireland."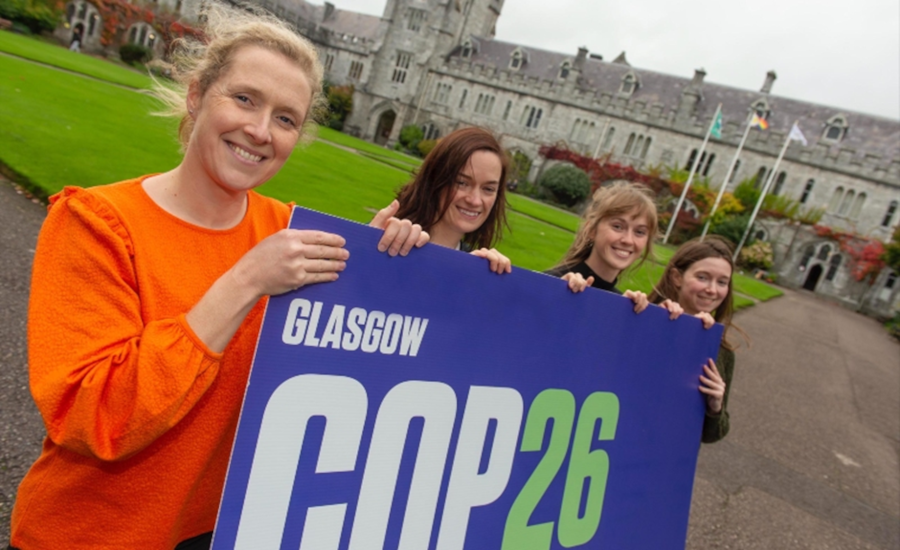 Sustainable Futures at UCC
It is now widely acknowledged that climate action and the wider sustainability agenda must work cooperatively, with a number of the UN Sustainable Development Goals (SDGs) needing to be addressed in tandem if they are going to be successfully met. SDG 11 – Sustainable Cities and Communities – aims to make cities and human settlements inclusive, safe, resilient and sustainable. COP26 delegate Dr Marguerite Nyhan, Senior lecturer in Future Sustainability in UCC (ERI, MaREI, School of Engineering) and expert in the area of urban sustainability spoke to RTE Radio 1 about how her research is becoming increasingly urgent as close to 70% of the world's population now lives in cities.
The road to COP26
"I got a train from Cork to Dublin, one from Dublin to Belfast, a ferry from Belfast to Scotland, a bus to Glasgow, and a train to Edinburgh, where I am staying." - UCC Student Alicia O'Sullivan on her trip to COP26.
The UCC delegation made a decision to travel to Glasgow by boat, train and electric car rather than flying which has a much greater carbon footprint per passenger. PhD researcher Evan Boyle (MaREI, ERI) was part of an electric vehicle road trip to COP26 stopping at a farm in Offaly, Queens University in Belfast and a farm in Scotland on the 215km journey before arriving at the conference.
You can catch up on the Road to COP26 trip on the UCC Instagram page.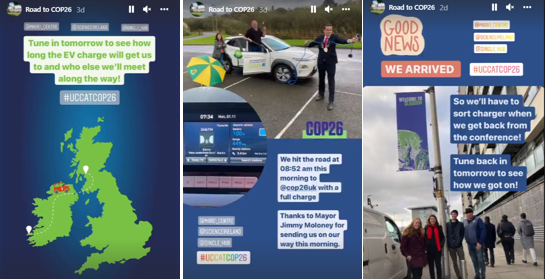 COP 26 and the History of Climate Change
"While COP26 and what we can do to stop global warming is the story of the moment, the history of climate change started long before world leaders gathered in Glasgow" – COP 26 delegate Rhoda Jennings of ERI, Centre for Law and the Environment, UCC School of Law writes in the Evening Echo about the role of COP in the long history of Climate Change.
The student perspective
"Many of the solutions to the global climate crisis are out there right now, being led by young people in every community, corner, and forum around the world."- COP 26 delegate and UCC SU Environment and Sustainability Officer (and Law Student) Alicia O'Sullivan spoke to RTE News ahead of her trip to Glasgow. Alicia will be hosting 'The Power of Investing Youth-Led Solutions' on Tuesday 9th with YMCA Ambassadors from Zambia, Peru and San Francisco which will discuss measures which would make climate activism more accessible. Alicia will also attend a Fridays for Future strike on Friday and a march on Saturday to demand action on climate change.
Two other UCC students who are part of the COP26 delegation, Vera O'Riordan and Clara Felberbauer wrote in the Irish Independent about the personal impact of the conference for them.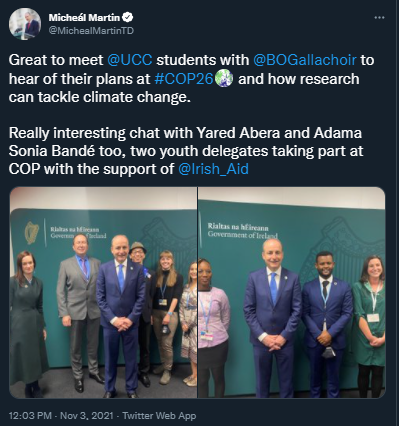 Climate Change and Health
As members of an Environment and Health Subgroup in WHO Healthy Cities, Cork Healthy Cities was invited to participate in a side event at COP26 on the co-benefits of health and climate mitigation. Prof Brian O'Gallachoir represented Cork Healthy Cities at the event which you can watch a full recording of here.
Mental health is also a consideration, as ERI and BEES researcher Dr Jean O'Dwyer reported this week the odds of developing issues are about 90% higher for those exposed to extreme weather events.
Climate Change conversations with kids
With COP26 being such a widespread topic in the media, it is inevitable that our children will ask what it is all about. COP26 delegate Dr Kian Mintz-Woo (ERI, School of Philosophy) on How to talk to your children about Climate Change. Kian also spoke to Ryan Tubridy on the topic of climate ethics and who should pay for the costs of climate action.
Climate Solutions
"In Ireland we have a relatively clean electricity grid. 40% of all of our energy last year came from clean renewables. Most of that was indigenous things like wind energy and that has a rippling effect into things like electric vehicles because the cleanness of the power system passes into the electric car and that results in very significant emissions benefits when driving an electric car." – Dr Paul Deane speaks to RTE on the pros and cons of electric vehicles, given the Government's target to have one million of them on the roads by 2030 in a bid to slash Ireland's carbon emissions.
"They are a big win, win – electric cars. They remove air pollution. They can be powered by indigenous Irish produced energy – which is wind and solar energy," said Dr Hannah Daly to RTE news, "Ireland imports about €5 billion worth of fossil fuels every year. If we can reach our climate goals by reducing those and using indigenous renewable energy instead, it is a big win/win."
A Deforestation pledge was one of the earliest agreements by more than 100 world leaders, including Taoiseach Micheál Martin, to not only end but also to reverse the highly damaging process. However there is a danger that the deforestation pledge will fail unless consumers switch to more sustainable food sources.
"Once again the issue comes back to the food that we eat. Vast areas of forests are being removed globally to facilitate livestock, soy and palm oil production." Dr Eoin Lettice of ERI, BEES to the Irish Examiner.
Ireland's role
"If everyone in the world had the same per-capita emissions as Ireland, the planet would already have warmed by a catastrophic 3 degrees" - Hannah Daly (ERI, MaREI, School of Engineering) in Irish Times in advance of the conference.
Hannah and colleagues have estimated that if agriculture emissions fell by about 19% by 2030 – in line with the current agrifood strategy – emissions in energy would need to drop by 69% to make up the difference. If agricultural emissions fell by 33%, energy emissions would still need to fall by 61% which is still a significant drop.
"It's no longer a problem for the future: Fires, floods, droughts, and ice melt this summer have given us a hint of catastrophes to come, and it is only a matter of time before we feel this closer to home." - Hannah Daly (ERI, MaREI, School of Engineering) in the Irish Examiner
"At Cop-25, Ireland's ambitions and plans to achieve a 30% reduction in GHG emissions by 2030 was shared with delegates. At Cop-26, the Government will bring news to Glasgow just two years later of a significantly more ambitious target, namely to reduce emissions by 51% by 2030." – Prof Brian O'Gallachoir writes about how Ireland's progress to date in the Irish Examiner.
Professor Brian O'Gallachoir acknowledges while there are the reasons to be optimistic about climate action but emphasises that "the penny has not dropped".
"I think it's one of the reasons why having an annual event like this on climate change is hugely important," says Professor Ó Gallachóir to RTE news, "I can't think of any other topic in politics where global leaders meet every year to see how they're progressing, so they can be tracked.
"Don't become a nation of giver-outers..We need to listen, and have empathy. None of this is easy to do. We're all going to have to shift in our lives" is the advice from Clare Watson (ERI, MaREI)
Stay tuned
Follow the UCC delegation at #UCCatCOP26 on Twitter, Instagram and Facebook and with a weekly COP26 diary with the Irish Independent & the Irish Examiner where they will be sharing their experience during the two weeks of this crucial summit.