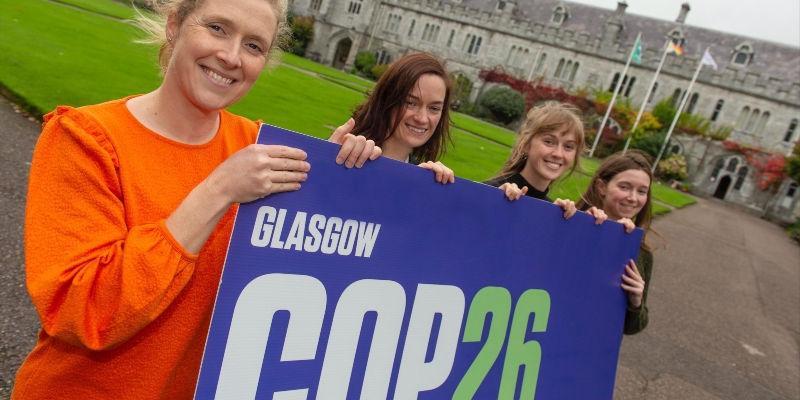 In what is seen as a crucial meeting, the COP26 summit (Oct 31- Nov 12) will bring nations together to accelerate action towards the goals of the Paris Agreement (COP21 2015) and the UN Framework Convention on Climate Change, to limit the levels of global warming and climate change.
UCC's delegation of climate change experts and students will make its way to Glasgow in a low carbon manner (by boat and train) and will contribute to events at COP26. The delegation is led by Professor of Energy Engineering at UCC & Director of MaREI, the Science Foundation Ireland Research Centre for Energy, Climate and Marine at UCC, Brian Ó Gallachóir;
"This is a critical time for global climate politics. The ambition to stay within 1.5 degrees global warming was agreed in Paris in 2015. Unfortunately, however, we are seeing greenhouse gas emissions growing again after a temporary pause for COVID-19. In UCC, we are doing research on the required solutions to deliver on this political ambition. As individual countries bring increases ambitions to COP-26, I'm hoping to see stronger commitments to action from Governments to match their ambitions and to deliver the necessary solutions, including from Ireland."
Among the delegation will be UCC law student and climate activist Alicia O'Sullivan (20) who represented Ireland at the first UN youth climate summit in New York in 2019 and is a delegate to COP26.
"It is great that UCC has observer status at COP26, as the first University in the world to be awarded a Green Flag and one of the top 10 most sustainable universities in the world, we are a place that has worked hard but can work harder. With our Mock COP we gave students the opportunity to speak about issues that matter to them, we (the UCC delegation) can then bring this with us to COP26 so the views of all UCC students can be heard."
Commenting, Professor John O'Halloran, President of UCC stated,"COP26 presents one of the final opportunities for us to avoid the 1.5C increase in global temperature by 2030. We are running out of time to arrest this trajectory. Translating university research and practice is critical towards informing the path to securing our future."
UCC's delegation
of climate
change
experts and students will make its way to Glasgow
in a low carbon manner (
by boat and
train
) and
will contribute
to events
at COP26.
On Tuesday night UCC hosted a "mock COP26" on its campus led by Dr Fionn Rogan. Students representing the positions of different countries took part in a simulation of negotiations. As the host nation of COP26, the British Ambassador to Ireland, Paul Johnston, delivered a message to the students.
"We put their pledges to reduce emissions into a climate simulation to see if they are sufficient to prevent a 1.5°C temperature rise, "The idea is that it will help the students learn how difficult the negotiations are. All of this is to raise awareness of the importance of COP26" Stated Dr Paul Bolger, Manager of the Environmental Research Institute (ERI) at UCC.
"During the mock COP the participating students negotiated on behalf of countries different to their own nationalities, e.g., Irish and European students had to negotiate on behalf of the world's poorest nations which are much more impacted by climate change. This is designed to give the students a perspective that's different to their own, which will hopefully lead to greater awareness of the challenges, as well as empathy," stated Dr Fionn Rogan, Senior Research Fellow at the Environmental Research Institute (ERI) and MaREI centre.
"A number of the student societies who helped to organise the mock COP participated by role-playing as disruptive environmental NGOs that will remind the student negotiators about their responsibilities to the environment and the climate", stated Dr Fionn Rogan.
The mock COP was jointly organised by UCC Green Campus and a number of students societies including Co-Operative Society, Engineers Without Border, Environmental Society, International Relations Society, International Development Society and the Law Society.
The UCC delegation has been organised by a working group within the President's office in association with the University's flagship Environmental Research Institute (ERI). Over 400 researchers from across the University work on climate change in the Institute. Follow the UCC delegation in Glasgow at #UCCatCOP26
The UCC delegation consists of experts in carbon emissions & budgets, transport, societal change, sustainable cities, air & water pollution & energy efficiency. For interviews with members of the delegation contact - Eoin.hahessy@ucc.ie / 086 046 8950 or search a database of over 400 researchers working towards creating a sustainable society here.