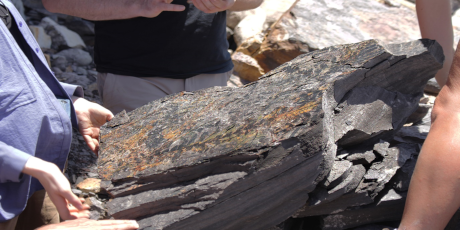 University College Cork's education programme Ireland's Fossil Heritage is launching a nationwide poll during Science Week (Nov 13th – 20th 2022) to find Ireland's Favourite Fossil.
We need your help to pick Ireland's Favourite Fossil! We have prepared a shortlist of 10 of the most incredible fossils from around the country, from fossil plants to animals and even fossil footprints!
The shortlist has been personally selected by Irish Palaeontologists and includes some iconic Irish fossils such as the extinct amphibian Keraterpteton, originally found in Co. Kilkenny this fossil looks like a little dragon! Also included on the list is one of the earliest-ever plants, Cooksonia, which was found in Co. Tipperary and is only a few millimetres in height. Another contender for Ireland's Favourite Fossils is the Valentia Island Trackway a UNESCO world heritage site in Co. Kerry that is made up of some of the earliest known footprints of land animals.
Cast your vote now at https://www.ucc.ie/en/fossil-heritage/irelandsfavouritefossil/