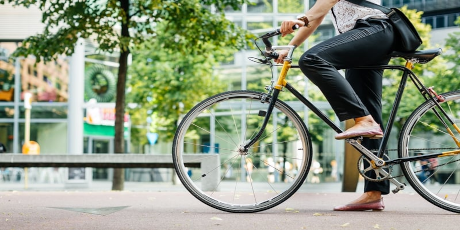 Opinion: to reduce transport emissions, Ireland must switch from policies favouring electric vehicles to ones around active travel schemes - PhD Researcher Vera O'Riordan and Research Assistant Amy Hollands - Energy Policy & Modelling Group, MaREI Centre/Environmental Research Institute
Recent reports have highlighted how electric car sales have increased in 2022 by 81%, but they still only make up a small share of overall car sales. While the increase has been very good, it has been increasing from a very low number, and so the overall share of electric car sales is still very low. Only one in every seven new cars sold in Ireland in 2022 was electric, so what else can we do to reduce emissions from transport?
Car owners will be familiar with the annual car tax and car registration tax policies. In 2008, the basis of this taxation was switched from the engine size of the vehicle to its carbon dioxide (CO2) emissions band. A recent study found that this change operated as a tax cut in disguise, resulting in lower tax intakes compared to what would have occurred under the old tax scheme. It cut emissions, but it also was a very costly way to cut carbon dioxide emissions.
The cost of reducing or 'avoiding' CO2 can be better understood when compared with other policies so we looked at what other ways state funds could be used to reduce CO2 emissions from personal transport. Under the electric vehicle grant scheme, the Government provides support in the form of grants for the purchase of vehicle and home charger units, as well as lower motor taxes and tolls. These benefits can add up to about €10,000 in the first year of vehicle ownership. If an electric car completely replaces a petrol car, we estimate that the scheme cuts emissions at a cost of €995 per tonne of carbon dioxide.
As a comparison to the EV grant scheme and emissions-based car taxes, we also estimated the cost of the bike to work scheme per tonne of CO2 avoided. The scheme allows for a bicycle up to the value of €1,250 to be purchased with before tax income. A survey on a similar scheme in the UK found that those who got a bike through the scheme cycled an extra 30 minutes a day on average as a result of the scheme.
Based on findings from this study, we calculate that a bike purchased under the scheme has the potential to save 2.85 tonnes of carbon dioxide CO2. That's a cost to the Exchequer of just €228 per tonne of carbon dioxide, which is much less than the electric car grant scheme and the car tax policy.
What this tells us is that focusing on modal shift and car demand reduction over improved fossil fuel cars could be a more affordable approach to reducing our emissions from transport. It also carries many additional benefits for society.
A recent OECD report on Irish transport policy has called for additional government funding to cut carbon dioxide from Irish transport, after drawing the conclusion that electric vehicles alone will not be enough. The OECD report draws attention to the structure of the Irish transport system which itself fosters car-dependency.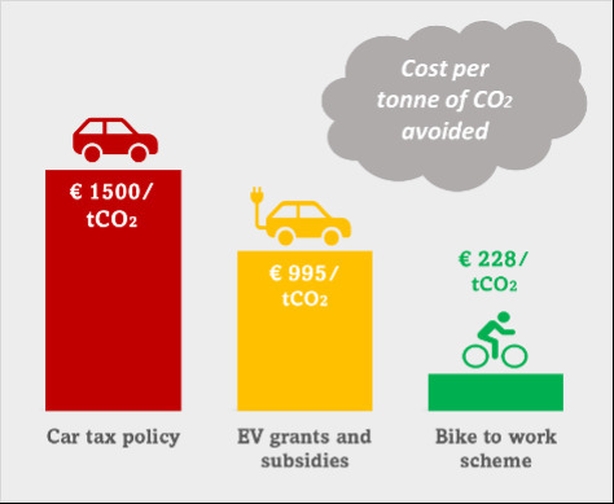 The report advocates for an "Avoid-Shift-Improve" approach: prioritising the development of urban space to avoid the need for travel and promoting a shift towards low carbon public transport and active travel modes such as walking and cycling. Then, and only then, is it a good idea to electrify the remaining cars.
This approach has been adopted in the new Climate Action Plan 2023 and there has been a recent shift from policy centred around electric vehicles. Instead, we are seeing a varied approach that focuses on improving all aspects of passenger transport, such as public transport, infrastructure for pedestrians and cyclists and sustainable transport for schools.
Not only are car based schemes more expensive, but they can also promote social inequality. A study of electric car grant schemes and a recent Oireachtas report highlighted that such schemes in other countries have been regressive, with much of the money benefiting individuals from higher income categories. A study from Trinity College Dublin on transport disadvantage and forced car ownership, showed that Ireland's electric car grants and subsidies often end up in areas that have better public transport and walking and cycling facilities than most places in Ireland.
Adopting the avoid-shift-improve framework can create a fairer, and more inclusive sustainable transition. Using state money to fund active travel and car reduction projects could also provide the taxpayer with the best value for money when it comes to improving transport in Ireland, rather than giving grants to people on already higher-than-average incomes.