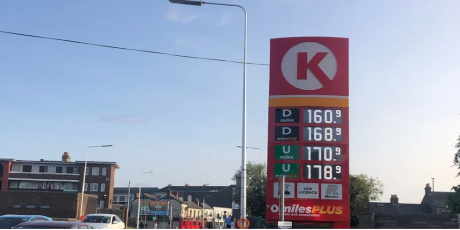 Analysis: the impact of excise on fuel prices will have to be considered by Government ahead of another winter of high heating and electricity bills - Dr. Paul Deane, Senior Research Fellow, MaREI Cetnre/ERI
Diesel and petrol prices have been rising steadily for the past month and have now returned to levels not seen since 2022. Forecourt prices are strongly influenced by international oil prices, but expectations on the global economy, refinery capacity and currency exchange rates also have an impact on what we pay for fuel.
This month, a conflux of these factors was responsible for driving up prices across the globe at a time when demand for oil is growing while its supply is becoming more uncertain. The International Energy Agency estimated that global oil demand hit a record 103 million barrels per day in June and could scale another peak as the year progresses. Earlier this month, Saudi Arabia said it will extend an oil output cut of one million barrels per day for another month, while Russia will also cut production to maintain upward pressure on market prices.
Ireland's cars, trucks and busses use over 50 million barrels of oil a year and so is very exposed to these impacts. In the past, private cars ran mostly on petrol while commercial and heavy vehicles used diesel. From the mid-2000s, the share of diesel private cars began to increase. Changes to annual car taxation in 2008 accelerated this trend.
The amount of petrol consumed in Ireland reduced by more than half between 2007 and 2018 because of the shift to diesel cars and diesel is now the main liquid fuel used for transport. Measures to contain Covid-19 from 2020 had a marked impact on fuel consumption but has returned to near normal levels of use as measures are relaxed.
Ireland has little control or influence on the international price of oil, but we do have discretion when it comes to the level of tax for pump prices. National taxation is important in understanding future prices because about half of the price we pay at the pump is made up of tax.
In Ireland, the tax on petrol and diesel has a fixed and variable component which impact pump price dynamics. The fixed component is known as a Mineral Oil Tax and is made up of a Carbon Tax and an Excise or Duty.
Excise duty is an important Revenue stream for the Government, and collected over €5.8 billion last year, with over €2bn of that coming from fuel taxes. While the carbon tax attracts much political attention, it is smaller (13 cents per litre for diesel) than the excise, which is a fixed amount. It was 42 cents per litre for diesel and was reduced to 30 cents per litre in April 2022 in response to the energy crisis.
VAT is the variable component and is currently charged at 23% on top of the other taxes. It is applied to the price of the crude oil refined to make the petrol and diesel which varies depending on market conditions.
In February, the government confirmed that the excise duty on petrol and diesel would be restored through three increases. The first one happened on 1st June with further increases due in September and at the end of October.
Despite the reduction in excise duty, the taxable elements for the government of diesel in Ireland has remained stable at just under 80 cents per litre because the variable element of VAT has increased with higher international oil prices. This means the government have foregone increased tax of approximately €1 billion rather than seen a loss in overall revenue when it comes to excise reduction.
As we head into the autumn and winter months, the Government will need to consider balancing the books, while also balancing motorists' expectations at the fuel pumps. This is in the context of an energy crisis that has reduced, but not gone away.
The impact of excise on fuel prices will have to be considered by Government as we head into another winter with high heating and electricity bills
Electricity prices for households at still at record high levels and the high price of international oil has also put upward pressure on home heating oil which has risen above the €1 per litre mark in July. About four out of ten households use oil for central heating in Ireland and an average house may need to spend over €1000 on oil over the course of a year.
The spring and early summer provided some brief respite for motorist, but the impact of excise on fuel prices will have to be carefully considered by Government as we head into another winter with high heating and electricity bills.