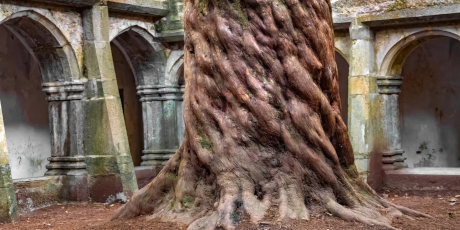 Analysis: trees are fundamental to our sense of place and identity and can become symbols of cultural and political power - Dr. Claire Nolan, School of BEES/ERI/UCC
The unlawful felling of the 300-year-old sycamore at Hadrian's wall in Northumberland in September was met with a mixture of shock, outrage and grief throughout the UK and further afield. These responses, triggered as much by the cultural associations of the sycamore as its natural value, demonstrate just how fundamental trees are to our sense of place and identity.
Seeking to encourage greater appreciation and care for woodlands, the Irish Tree Explorers Network (ITEN) project, based at University College Cork is currently investigating the scientific and cultural significance of tree collections and woodlands in Ireland.
Trees as Cultural and Political Symbols
Some brief examples from Irish history remind us that the sycamore at Hadrian's wall is not the first tree to have been deliberately destroyed in the name of provocation or retribution. As Fergus Kelly writes, 'The Annals of Ulster record that in 1099 the Cenel nEogain chopped down the sacred tree of the Ulstermen, the Craeb Telcha'. Twelve years later, the Ulstermen retaliated in kind. In the eighteenth-century tenants protested against their landlords by purposely mutilating and cutting the trees they had planted.
These violent acts demonstrate how trees can become symbols of cultural and political power. In the wake of the large-scale native woodland clearance that took place in Ireland during the Tudor reign, trees were associated with the loss not only of much-needed resources but of the Gaelic way of life. Following two centuries of dramatic deforestation in the service of timber production for the British empire and creation of agricultural land for the ruling elite, the landed gentry eventually recognised the need for a programme of reforestation. Ironically, with the introduction of this scheme, trees came to represent dispossession for Irish tenants, as the new plantations of the eighteenth-century encroached on agricultural land upon which they depended for survival.
Given these changing associations, and subsequent view of trees as an impediment to agriculture, perhaps it is no wonder that, despite successive attempts at afforestation, Ireland continues to be the least forested part of Europe, with only 11% of its land surface covered in woodland.
Trees in Early Ireland (c. 5th-9th Century AD)
Ireland was once densely forested and its relationship with trees was not always so fraught. For instance, if the incident at Hadrian's Wall had occurred in early Medieval Ireland, the culprit would have had to pay a hefty fine. Even a mere branch-cutting to an oak could cost the perpetrator a yearling heifer.
People in early Ireland had great reverence for their native trees, on which they were dependent for basics such as food, housing and transport. Each tree was recognised for its unique properties and functions. The acorns, wood and bark of the oak, for example, were used respectively to feed animals, build fences and tan leather, while timber and resin of the Scots pine were used to build houses and ship masts.
Trees were so intertwined with Gaelic culture during this period that even some of the letters of the early Irish Ogham alphabet were named after them. Specific trees were also venerated for their various virtues, including supernatural properties. Indeed, the Irish myths tell tales of magic apples that could bind mortals to the will of the Gods. Certain trees were also praised in early Medieval nature poetry for their beauty, bounty and strength. Striking is the intimate knowledge that people had during this period of the uses and values of trees, something arguably that many of us have lost.
Contemporary Reverence for Trees
The increasing number of responsible tree planting projects now taking place in Ireland show that we have not entirely lost our veneration of trees. This is also evident in our love and care for trees of special cultural significance, both native and non-native. The autograph tree at Coole Park on which are etched signatures of famous Irish writers and figures from the late 19th and early 20th centuries is a prime example of this regard for the link between trees and identity. The survival of the 'fairy tree' in Latoon, County Clare, once threatened by the Newmarket-on-Fergus bypass in 1999, also demonstrates the deep connection that people feel in relation to trees in Irish folklore and myth.
Trees are part of the fabric of our landscapes and our homes, from the timber used to build them to the furniture we sit on and the apples we eat. Even our placenames contain echoes of former woodlands – Adare (Ford of the Oak grove), Kylemore (Great Wood). We have evolved with trees through history. Literally so, in the case of veteran trees that have witnessed and featured in our histories, standing as monuments to permanence and continuity. As such, trees are intertwined with our sense of place, culture and identity. In acknowledgement of this connection, we might take a leaf from the sycamore at Hadrian's wall by remembering the important relationship we have with our trees, how much they do for us, and to celebrate and cherish them.
ITEN is funded by Science Foundation Ireland