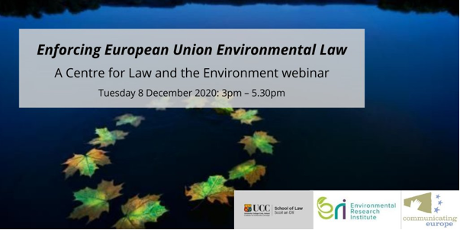 The Centre for Law & the Environment hosted a webinar on Enforcing European Union Environmental Law on 8 December 2020.
Convened by Professor Áine Ryall, with funding from the Department of Foreign Affairs Communicating Europe Initiative, the webinar attracted over 160 participants.
A range of themes were examined during the event including: the role of the EU Commission; the impact of Brexit; developments in appropriate assessment; and the influence of EU law on the right to participate in environmental decision-making.
The Hon Ms Justice Marie Baker, Supreme Court, chaired the webinar.
Recordings of the webinar, along with the contributors' presentations, are now available to view on the Centre for Law and the Environment page.