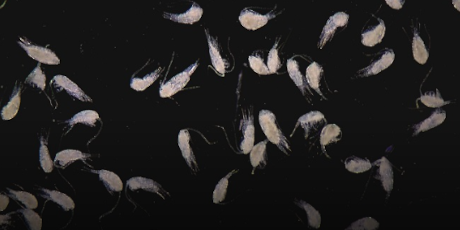 This is an educational resource created by the Plankton club, a voluntary initiative in UCC which gives undergraduates the opportunity to engage in more hands-on lab and field work.
The Plankton Club was created as part of a Teaching and Learning initiative funded by the National Forum to give UCC undergraduate students in the School of Biological, Earth and Environmental Sciences a chance to gain more practical hands-on lab and field experiences. As part of the initiative, the team decided to create a website as an educational resource for the club members but also for anyone interested in learning more about Irish zooplankton.
The website contains information about the project, the importance of monitoring plankton and a quick dive into the diversity of organisms that live in the plankton. However, what is really novel about the Plankton Club website is the 'monthly zooplankton count data' for Irish coastal waters. This will allow visitors to observe how zooplankton abundance changes dramatically through the seasons. Dr Tom Doyle, (BEES/ERI/MaREI) the PI behind the project said that "anyone with an interest in our coastal seas can visit the website and see for themselves how the zooplankton changes with each month. Just like we observe seasonal changes in our gardens and parks, this website will provide a window into one of the most spectacular biological changes that happens each year – the zooplankton bloom (i.e. the dramatic increase in zooplankton abundance)".
Plankton Club collaborators include the Irish Naval Services and MOWI Ireland and we are very grateful to the Higher Education authority (via the National Forum), UCC, ERI, MaREI and Science Foundation Ireland for financing and facilitating this project.