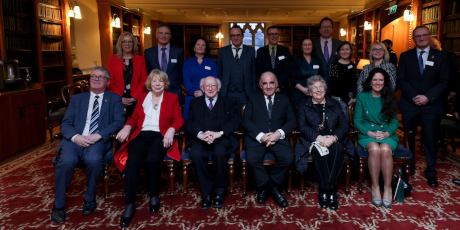 On World Book Day, President of Ireland and President of Malta will view the Great Book of Ireland
On World Book Day, President of Ireland and President of Malta will view the Great Book of Ireland
On March 2nd the President of Ireland, Michael D. Higgins, his wife Ms Sabina Higgins, and President of Malta, H.E. Dr George Vella, and his wife Mrs Miriam Vella visited the UCC campus as part of a State Visit by the Maltese delegation to Ireland.
In response to specific interest from the delegation in the areas of the marine, climate action and maritime research, ERI Director Prof Sarah Culloty provided an overview of the Institutes research in these areas and 6 ERI researchers presented on their own work:
Dr Jimmy Murphy (Engineering, MaREI, ERI) spoke about Marine Renewables, particularly the Lir National Ocean Test Facility and the H2020 MUSICA project which includes University of Malta. MUSICA will provide a full suite of Blue Growth solutions for a small island like Ireland (or indeed Malta).
Dr Sharon Lynch (BEES, ERI) spoke about the importance of aquaculture and coastal communities for island nations such as Ireland and Malta.
Prof Andy Wheeler (BEES, iCRAG, ERI) spoke about marine geology and deep sea mapping and ocean exploration.
Prof Brian O'Gallachoir (Engineering, MaREI, ERI) spoke about the Imagining 2050/Dingle 2030 projects as examples of interdisciplinary research.
Dr Aoife Daly (School of Law, Centre for Law and Environment, ERI) described her work on climate justice and young people.
Dr Clodagh Harris (Government and Politics, ERI) spoke about her experience serving on the Citizens Assemblies for climate and biodiversity in Ireland.
President John O'Halloran, President of UCC said, "We warmly welcome them to our campus to view some of our treasures, meet our students, and hear about our leading environmental research."
While here President Higgins and President Vella also visited the Honan Chapel, met with Maltese students studying in Cork and to commemorate World Book Day, viewed The Great Book of Ireland, (Leabhar Mór na hÉireann) which has been described as 'Ireland's modern-day Book of Kells.'
The delegation also viewed The Atlas of the Great Irish Famine, which was published by UCC's Cork University Press (CUP), and its 728 pages and over 1,000 images offer a new and extraordinary insight into a defining period in Irish history.