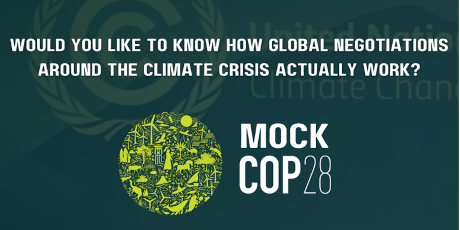 The conference of the parties (COP) to the UN Framework Convention on Climate Change (UNFCCC) is an international climate summit, which is held annually. 197 member states (parties) will be involved in this year's COP28, and as the only Irish University with observer status, UCC is once again sending the President's Delegation.
To mark the importance of COP28 in the global effort to ensure a safe future, UCC will also host a role-playing version of the negotiations to understand COP's challenges and to see if a global agreement can be reached. UCC has had UNFCCC observer membership status since 2015. The UCC President's COP28 delegation will attend COP negotiations in Dubai in December 2023.
This event is organised by UCC Green Campus and the Environmental Research Institute, and is supported by UCC Sustainable Futures Lab, with thanks also to UCC Students Union, UCC BEES Society, UCC Environmental Society and UCC Global Justice Society.
Join us on Wed. 22nd of November from 4-6pm in UCC's Sustainable Futures Lab, Iris Ashley Cummins building, and feel free to share further.