The second week of COP26 saw the cumulation of negotiations and issuing of pledges to go carbon neutral. This included India, who for the first time have pledged to go carbon neutral by 2070. Rules for carbon trading were agreed, and world leaders will report their progress on emissions cuts every year.
UCC postgraduate student Clara Felberbauer (CRAC, ERI) writes in The Examiner "Despite these achievements, the race for the necessary greenhouse gas reductions to limit global warming to 1.5C will be a close one. The latest estimates are that the combined effect of the pledges may get us to 1.8C (quite a shift from the 2.7C reported before Cop26)."
Clara and fellow UCC postgraduate student Vera O'Riordan (ERI, MaREI) also provided some insight on the conversations which took place during the commute to the conference each day in their COP26 diary in The Independent.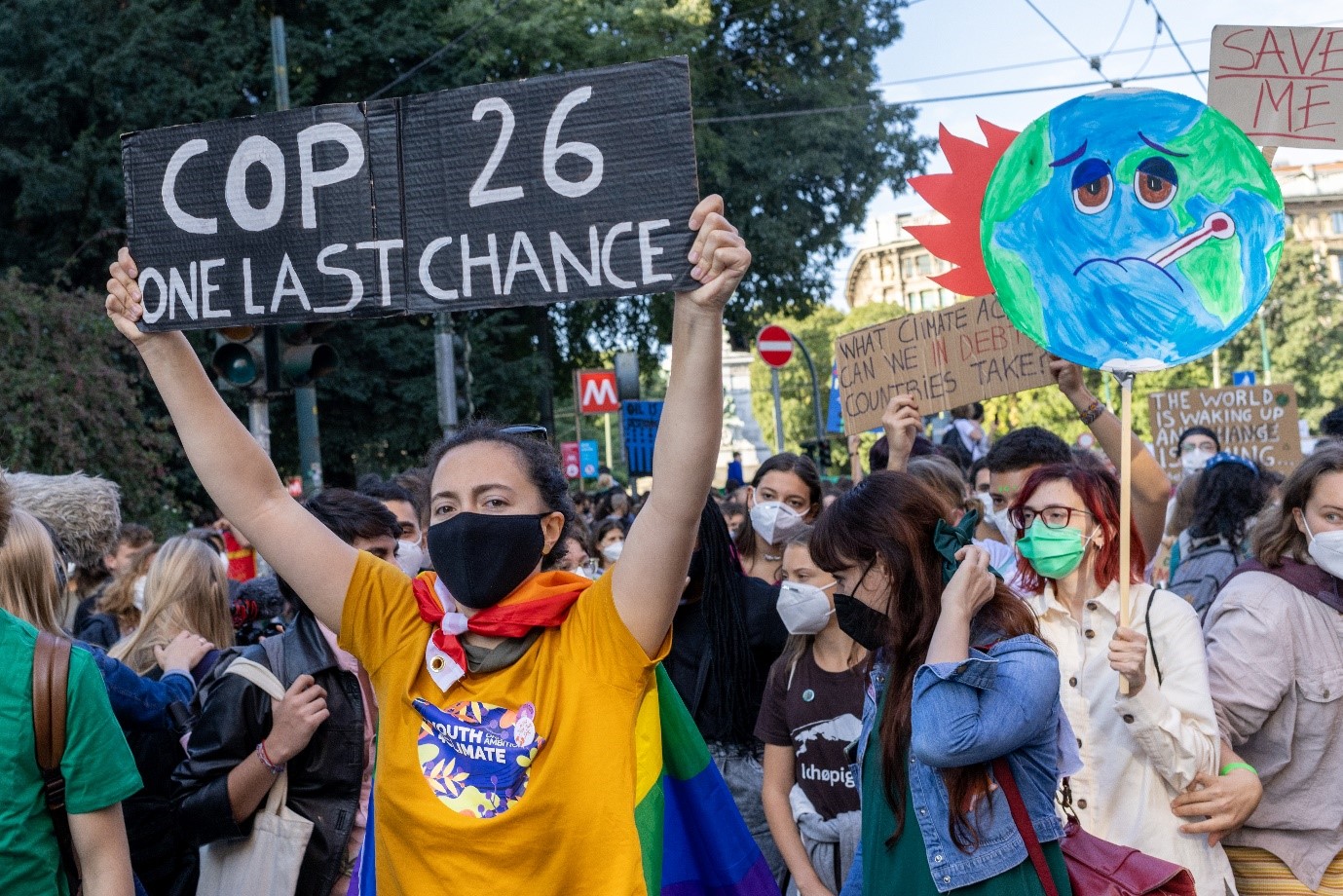 Vera also wrote in The Echo that "A highlight of COP26 for me was meeting delegates from the Africa region. I heard about biofuel projects in Liberia, which used coconut waste for clean cooking, and sustainable agriculture initiatives in Ghana which involved people working on the ground with farmers to switch to more sustainable farming. We would do well to learn from our international friends in this respect."
Vera, who is completing her thesis research on the sustainable pathways for transport in Ireland also wrote specifically about the COP26 discussions on decarbonising transport, while in writing for The Conversation, Prof Wim Naudé (CUBS, ERI) emphasised that the new deal to decarbonise shipping isn't enough and proposed how global trade can truly reach net-zero.
Nations which could afford to, have committed to doubling their adaptation finance to assist lower and middle income countries in dealing with the impacts they are suffering from climate change. But this effort has been seen by many as not nearly enough. Dr Eoin Lettice (ERI, School of BEES) who was amongst the UCC COP26 delegation, observed that poorer nations will still disproportionately feel the effects of the changing crisis and called the refusal of richer nations to truly mitigate this a 'missed opportunity': "That fact must be recognised and sufficient financial assistance provided to help deal with a problem that these countries did not cause."
Dr Lettice summed up his reflections on COP26 in the Examiner as 'a lot done, more to do', and emphasised to Cork 96FMs opinion line, that the smaller island nations who are being forced to move villages to higher land, cannot afford to wait for wealthier nations to take action.
Dr Lettice also shared a photo on his Twitter account of the UCC delegation meeting Former President Mary Robinson, who gave impassioned criticism to countries who have not arrived 'in crisis mode'.
Dr Lettice also welcomed the inclusion of nature-based solutions in the discussions at COP26, particularly their importance to both mitigation and adaptation being recognised in the final pact.
You can read Dr Lettice's full thread on his experience of COP26 here.
Photo credit: Dr Eoin Lettice
Returning delegates reflected on their experience with Dr Kian Mintz-Woo commenting, "The thing that COPs do is draw in expertise, whether scientific, policy, and practical, generating the space for discussion that is hard to replicate in any other context."
Rhoda Jennings wrote about the historical significance of the annual COP conference in The Echo.
Dr Marguerite Nyhan spoke to Newstalk saying "I think that this issue around climate justice and the equitable climate action really could not be emphasised enough. And the really important part of the talks, on financing of climate action as well, that hasn't been realised at COP this time unfortunately."
Here at home, Professor Caitríona Ní Dhúill who leads the Eco-Humanities research group at the ERI and CACCSS participated in the Radio na Gaeltachta panel programme which discussed the conference.
On campus, British Ambassador to Ireland H.E. Mr Paul Johnston met with the returning UCC delegates, viewed UCC's sustainable communities mural and was presented with UCC's COP26 Declaration. This includes UCC's commitment, while working collectively with peers along both north-south and east-west axes of the islands of Ireland and Britain, to develop knowledge-based solutions and innovations to address the challenges of climate change mitigation and associated environmental degradation, in tandem with research to inform future policies.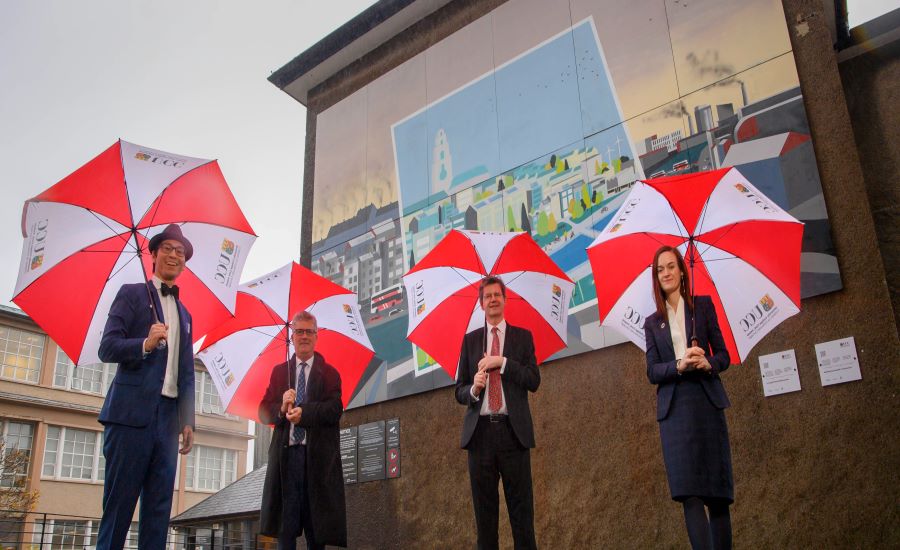 "Through my discussions today with the President John O'Halloran, staff and students from the COP26 delegation, and through visiting the UCC's sustainability mural, I can see first-hand the University's strong climate action agenda and its commitment to tackling the climate crisis. I look forward to exploring further how UCC and the British Embassy can work together beyond COP26 to support the achievement of our climate targets." - said Mr Johnston, who also launched the UCC Model COP26 in Oct.
You can watch the highlights of this Model COP26 here:
The Energy Policy and Modelling Group (MaREI, ERI) is providing commentary on COP26 and Ireland's role in particular in fulfilling its pledges at 2 post-COP events:
Read Professor Brian O'Gallachoir's reflections on UCC's participation at COP26 here