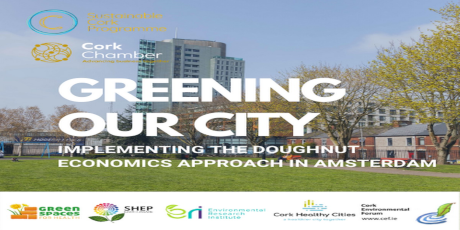 The April and May talks in our Greening Our City series have taken a broader view of "greening" (in line with the UN Sustainable Development Goals) with a focus on the approach of "Doughnut Economics" and its application at city level.
Tuesday May 18th at 2.30pm
The Journey of the Amsterdam Doughnut Coalition
with
Jennifer Drouin, Coordinator of the Amsterdam Doughnut Coalition
Spaces are limited and booking is essential at: https://www.eventbrite.ie/e/webinar-8-implementing-the-doughnut-economics-approach-in-amsterdam-tickets-152632019479
Additionally, in June the Environmental Research Centre in UCC will be hosting the national ENVIRON21 Colloquium. On 16th June 2021 the keynote address, which will be open to the public, will be delivered by Kate Raworth (author of Doughnut Economics) and Róisín Markham of the Irish Doughnut Economics Network.
Booking details for this event will follow in the coming weeks
Kate Raworth, the originator the Doughnut model, writes that for a long time "economics has been fixated on GDP, or national output, as its primary measure of progress. That fixation has been used to justify extreme inequalities of wealth coupled with unprecedented destruction of the living world. For the twenty-first century a far bigger goal is needed: meeting the human rights of every person within the means of our life-giving planet.…The challenge now is to create economies – local to global – that bring all humanity into [a]…safe and just space." (Kate Raworth, Doughnut Economics: Seven way to Think Like a 21st-Century Economist, 2017). Recently a number of cities in Europe and America have followed the lead of Amsterdam in seeking to implement this vision at city level. Cork may be able to learn from their experience. (See article in Time magazine, Feb. 2021, HERE).
PREVIOUS GREENING OUR CITY WEBINARS ARE AVAILABLE TO VIEW AT: https://corkhealthycities.com/greening-our-city/