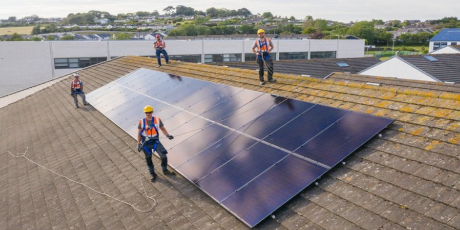 Analysis: The Climate Action Bill is correctly praised for its ambition, but of all the options available to Ireland, waiting is not one of them and decisions must be made early to deliver on the ambition set by the Bill - Dr Paul Deane, Research Fellow at the MaREI Centre for Marine and Renewable Energy and the Environmental Research Institute at UCC
The Irish government published the Climate Action and Low Carbon Development Bill in March which plans to put Ireland on course to be a climate neutral economy by 2050.
It is a landmark piece of legislation as it brings climate thinking into the centre of political decision making moving it from a marginal aspect that was often seen as an afterthought to a now normalised element of government.
An important concept in the Bill is the objective of a 'net zero' economy and the role of 'carbon budgets' in achieving this. These are terms from climate science and describe the quantities of heat trapping gas or greenhouse gases emitted to the atmosphere.
'Net zero' refers to a balance between the amount of greenhouse gas emitted by the combustion of fossil fuels or agricultural production, and the amount removed from the atmosphere by forests, lands, and technologies. Net zero is reached when the amount of greenhouse gas added is no more than the amount taken away
Carbon budgets also refer to emissions of greenhouse gas but specifically to the quantity that can be emitted over a defined period. Carbon budgets are like household budgets which define how much we can spend over a period, but carbon budgets reduce over time until net zero is reached.
Ireland plans to reach net zero no later than 2050 and will develop carbon budgets to set an interim target of a 51% reduction in emissions by 2030.
From Radio 1's Morning Ireland, Dr Paul Deane, research fellow at the Centre for Marine and Renewable Energy and the Environmental Research Institute at UCC, discusses the Climate Action Bill published by the Govt yesterday.
This level of proposed emissions reduction to 2030 is extraordinarily ambitious and is without international parallel. No modern economy has ever deliberately achieved this level of reduction and it will be very hard.
Today, Ireland has many of the correct policies in place such as for electric cars, home heating upgrades and renewable electricity, but these will have to be massively scaled and accompanied by new measures to reach the emissions reductions defined in the Climate Bill.
To achieve something that has never been done before, you likely must consider things that have not been tried before and for Ireland this will mean considering a wide range of new behavioural, technological, and financial measures.
These may range from strong disincentives to buying only the most efficient cars and appliances, technologies that remove and store carbon from fossil fuels and 100% grant funding for home heating upgrades for families that need financial assistance.
Nuclear energy is sometimes mentioned as an option but is an unlikely alternative in the timescale to 2030 due to scale and cost.
"But of all the options available to Ireland, waiting is not one of them and decisions must be made early as this is key to delivering the ambition defined in the Bill."
While all sectors of the economy must significantly reduce emissions, the areas of agriculture, heating and transport which make up approximately 80% of emissions will be the hardest.
Traditionally, emissions reductions have been difficult to achieve in these areas, in part because it requires thousands of families to take large investment decisions in an economic climate that is uncertain and challenging.
To address this the government will have to match ambition with financial support and investment.
From Radio 1's Drivetime, Eamon Ryan, Minister for the Environment, Climate and Communications, talks to Cormac about the government's new Climate Action Bill.
When considering investment in climate action it is helpful to have context. In Ireland we spend on average €20 billion each year on energy. The bulk of this figure is on fuels such as diesel, petrol and natural gas but also includes an annualised estimate of heating systems, cars, trucks, buses, etc.
The government had previously allocated an annual amount of €3 billion under the National Development Plan and it is likely that this will have to double in line with the new ambition as outlined in the Climate Bill.
Some of this investment will be offset by reduced fuel use but what makes climate action challenging is that the initial upfront costs tend to be high, while the longer-term running costs are low.
"This requires a different way of thinking when it comes to financing investments for families and businesses and one that the government needs to overcome."
An opportunity is to ensure that reducing emissions leads to increased wellbeing, employment and health outcomes which are often poorly quantified.
Analysis by the International Energy Agency and the International Monetary Fund in their post-Covid Sustainable Recovery Plan demonstrated that targeted investment in clean energy can boost economic growth, create jobs and deliver a more resilient and cleaner energy system.
For political leaders the challenge will be staying the course, as while most things are technically possible, not all things are politically feasible or socially acceptable.
The Climate Bill is correctly praised for ambition, but action and emissions reduction are the most important yardsticks.