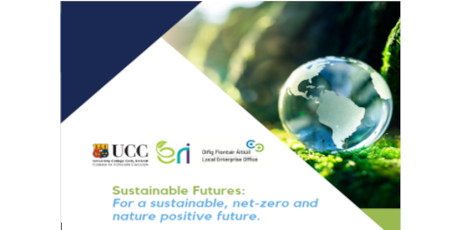 Supporting Local Enterprise
The Sustainable Futures Team at UCC have partnered with the Local Enterprise Office (LEO) of South Cork to deliver a short series of workshops to help small and micro enterprises understand environmental sustainability and how it relates to business.
The 'Breakfast Series for Sustainability' is being run as a series of masterclasses in Oct and Nov, in which participants learn how business can play a part in the transition to a sustainable society. From understanding the fundamental concepts of sustainability to managing resources within operations and communicating sustainability efforts, this series is giving direction and advice for implementing sustainability in a business context.
Sustainability experts from the ERI including Dr Marguerite Nyhan (Senior Lecturer in Future Sustainability in Environmental Engineering), Dr Paul Bolger (Manager, ERI), Dr Richard O'Shea (Lecturer, Sustainability in Enterprise), Tanya Fitzgerald (Enterprise Liaison Officer, Sustainable Futures) and Anna Ozolina (Project Manager, Sustainable Futures) build on cutting-edge research to help participants identify practical and achievable actions that can help sustainable businesses.
The topics covered include:
Introduction to Sustainability - 18th October
Resource Sustainability - 1st November
Communications for Sustainability - 15th November
Leadership for Sustainability - 29th November