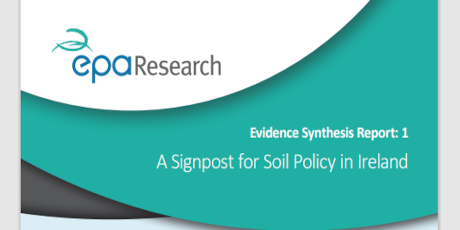 Soil provides critical environmental services linked to topical themes such as climate change, carbon sequestration, productivity, pollution and remediation. Soils, however, are increasingly subject to pressures arising from changes in biomes, climate, agriculture, industrialisation and urbanisation. Given that soils are a non-renewable resource, legislative frameworks are required to ensure that they are protected. These frameworks, in turn, must be supported by a comprehensive understanding of the factors that affect soil health and quality. The recent publication of the EU Roadmap New Soil Strategy and the commitment in Ireland's Programme for Government 2020 to urgently put new national soil policy in place emphasise the immediate need to support the development of policy for soil research and protection in Ireland through the synthesis of our current knowledge of Irish soils and of how soils are affected by human activities and climate change.
This recent study from ERI researchers Prof Maria McNamara, Hannah Binner, Eric Hynes and Luisa Andrade aimed to generate an accessible evidence base to support the development of new policy on soil and to enable Ireland to meet its commitments to both national and EU soil strategies.
The results reveal major knowledge gaps. Current research on Irish soils is biased towards those counties with permanent soil research facilities and soils in agricultural settings. Soils in other counties and settings, notably urban and mining settings, are underrepresented. As a result, current research is biased towards the collection of data on soil pH and nitrogen content. Other physical and chemical soil parameters are understudied; in particular, there is a lack of data on other major elements, metals, cation exchange capacity, structure, porosity and biodiversity.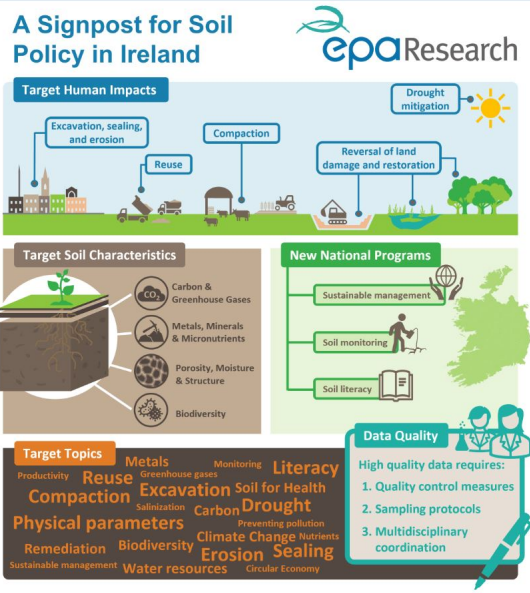 To address these issues, this study recommends that future government policy should prioritise three key areas
supporting soil research, in particular research on human impacts on soil in non-agricultural settings and soil characteristics that are understudied;
developing new national programmes for soil monitoring, literacy and sustainable management;
ensuring data quality by developing national guidance on protocols and more integrated collaboration between soil experts from different disciplines.