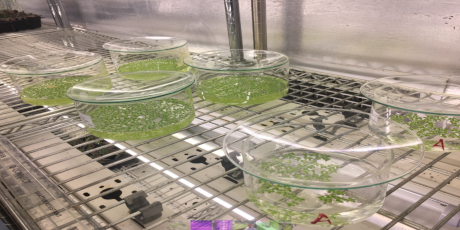 The BRAINWAVES Project
A plant that can help clean farm waste? Unbe-leaf-able!
ERI researchers are developing innovative closed-loop systems to reduce the input of agricultural waste material into the environment. And it's all thanks to one small but mighty plant – duckweed. The BRAINWAVES project aims to contribute to the agricultural Circular Economy by developing innovative and sustainable added-value technologies for a resource recovery-based approach to dairy industry wastewaters, while also enhancing industry competitiveness.
Combatting threats to Water Quality
Pollution of freshwater, aquatic resources is a major threat to communities across the globe. The EU Water Framework Directive specifically aims to improve water quality through a holistic approach in managing freshwater resources. Eutrophication results from release of nitrogen and phosphorus rich effluents into streams, rivers, lakes and estuaries and leads to excessive algal and bacterial growth and subsequent oxygen depletion. The resulting environmental degradation, including fish death, is a major concern, and the Environmental Protection Agency's Water Quality Indicators Report for 2019 found that nutrient levels in Irish waters are increasing. On the other hand, nutrient-rich effluents are potentially significant sources of nutrients. A more sustainable economy that preserves our natural resources, creates local jobs and generates competitive advantages is a key aim of the EU Industrial Policy Strategy 2017 and the EU 2030 Agenda for Sustainable Development. A Circular Economy approach is central to the delivery of that aim.
What is duckweed and how can it be used in agricultural waste management?
Duckweeds (members of the Lemnaceae family) are amongst the fastest growing plants on the planet. They have several unique characteristics that make them of interest to researchers. Duckweed species are pollution tolerant, and contain high quality protein, including substantial amounts of several essential amino acids. Duckweed growth has also been associated with decreases in organic pollution (BOD and COD). Duckweeds have been demonstrated to grow on various waste streams from which they can uptake plant nutrients, thus reducing nutrient levels in waste waters. What's more, cultivating the plant on waste water not only remediates the water, but also produces a resulting duckweed biomass which is rich in protein, and suitable for use in feedstuff. This has economic benefits for farmers for use as a potential replacement for imported soy feed. This 'valorisation', i.e. obtaining valuable products from waste, is a central component of the Circular Economy approach to production.
What is BRAINWAVES doing?
Led by PI Professor Marcel Jansen, BRAINWAVES will harness the remediating properties of native common duckweed (lemna minor) by developing systems for growing lemna on waste water.
Plant scientists at UCC's School of Biological, Earth and Environmental Sciences in Ireland, and Aberystwyth University's Institute of Biological Environmental and Rural Sciences in Wales, are collaborating on the design and optimisation of both indoor LED-illuminated stacked phytoponic flow through systems, and outdoor pond growth systems.
Over the next 2 years, researchers will design and scale workable demonstration model systems, with the end goal of guiding the prospective users – farmers – in the operation of these systems.
The research output will be a full circle use of nutrients, which enhances agricultural sustainability and positively influences water quality by preventing releases on surface water, while also bringing economic benefits to farmers – a win-win for the environment and our agricultural industry.
The project is part funded by the European Regional Development Fund, through the Ireland Wales Cooperation Programme, administered by the Welsh European Funding Office. The Programme aims to strengthen cross-border collaborative research in the areas of innovation, climate change and sustainable development, and promote economic growth and jobs on both sides of the Irish Sea.
Keep up to date with BRAINWAVES by subscribing to the newsletter and following @BrainwavesEU on Twitter.