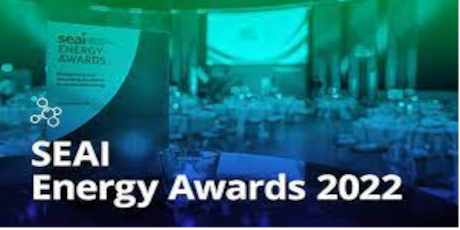 The ERI and UCC were the recipients of three awards at the SEAI Gala Awards Ceremony this week. The SEAI Sustainable Energy Awards recognise and reward excellence in all aspects of energy efficiency and renewable energy. With 11 categories covering large business, transport, SME's, renewable energy, research and emerging sustainable energy champion, this ceremony showcases the first class efforts across Ireland.
SEAI Energy Awards winners 2022
Inspirational Energy Community winners:
MaREI/ERI for Dingle Peninsula 2030/ Corca Dhuibhne SEC
Corca Dhuibhne Sustainable Energy Community (SEC), established in 2018, is part of the collaborative Dingle Peninsula 2030 initiative. They actively collaborate with the local community, including schools, business, transport, farming and tourism sectors. Their goal is to enable broader societal changes and foster a sustainable low-carbon transition. The Dingle Hub is working to identify employment opportunities and develop a sustainable economic future for the area. Through engaged research with MaREI, they are tracking, analysing and publishing experiential learnings. This is to help inform policy and practice, both locally and nationally. So far engagement events have reached up to 2,000 people from all sectors of society. Activities include an Anaerobic Digester Feasibility Study, audio training material, home trial on solar PV, battery management, heat pumps and electric vehicles. This project illustrates how collaboration can support and enable active community responses.
UCC for Green Campus
University College Cork (UCC) has a student-led, research-informed and practice-focused Green Campus program. UCC's energy management team has senior representatives from the capital projects office, the estates operational team and the academic community. The energy team prioritise an energy efficiency first approach. They operate their estate, communication campaigns and energy action plans and this has proven to be the foundation of their many successes.
They have rolled out a 'Saver Saves Scheme'. This inspires the internal culture of energy savers across multiple teams. They have encouraged capital investment in UCC to reduce its overall energy consumption. Since 2016, they have implemented over 100 energy efficiency projects aligned with their ISO 5001 Energy Management Programme. These range from lighting upgrades, building management system upgrades and building retrofits. They commenced their heating decarbonisation programme in 2021. This was built on the successes of all their activities so far.
Excellence in Energy Research and Innovation winners:
MaREI/ERI's Offshore Renewables Group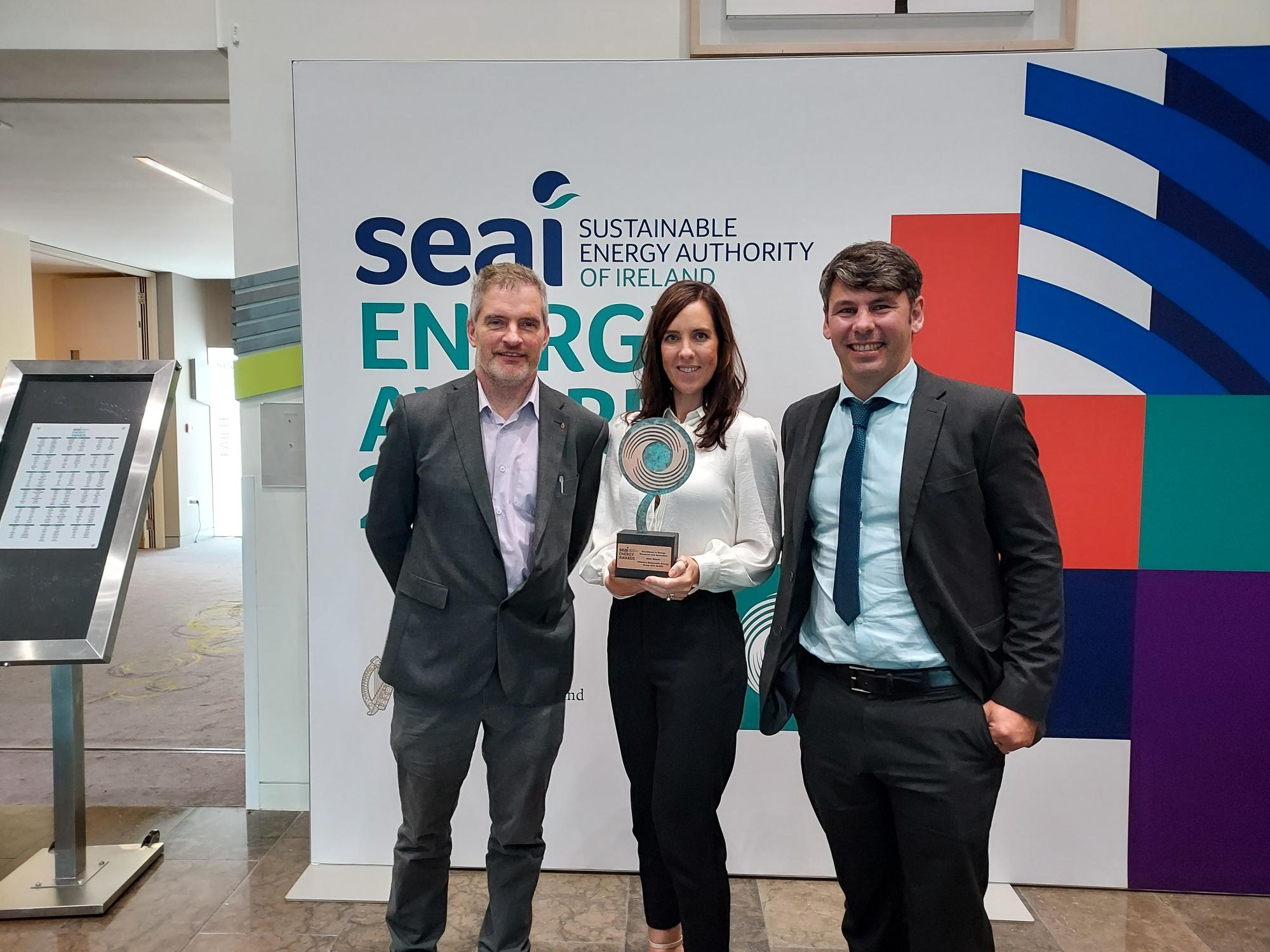 Left to right: Dr Jimmy Murphy (MaRINET2 Coordinator and Manager of LIR NOTF); Emma Knowles (MaRINET2 Administrative Project Manager); and Dr Michael O'Shea (MaRINET2 Project Manager))
The Offshore Renewable Energy (ORE) Group (MaREI Centre, UCC) won the category of Excellence in Energy Research and Innovation at the SEAI Energy Awards, held in Dublin 7th October 2022. The SEAI Energy Awards recognise and reward excellence in all aspects of energy efficiency and renewable energy. The ORE group were particularly recognised for coordinating the Horizon 2020 project MaRINET2 over 5 years. The MaRINET2 project comprised 52 facilities across Europe that test marine energy devices and include test tanks, wind tunnels, field test sites, component test facilities and other cross-cutting research. This project has supported collaboration and shared learnings to strengthen the marine renewable energy industry. This is a crucial enabler to decarbonising the global economy. Further details can be found at SEAI Energy Awards winners 2022.