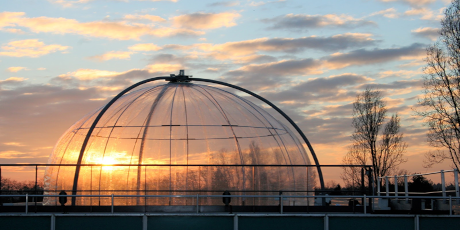 Allowing sustainable access to research infrastructures is a key element for scientific innovation but also for economic growth. Currently, several logistic, financial and administrative obstacles limit an optimal access to such infrastructures, but the the European research community of atmospheric sciences has received 15 million euros from the H2020 programme of the European Commission, in order to promote access to its research infrastructures. The main goal of the ATMO ACCESS consortium ("Sustainable Access to Atmospheric Research Facilities") is to develop solutions for sustainable access to atmospheric research facility services, which could also be applied to other domains, especially research infrastructures distributed in different countries.
ATMO-ACCESS gathers together 38 scientific institutions from 19 European countries of the atmospheric research infrastructures ACTRIS, ICOS et IAGOS, and is coordinated by the French National Research Centre (CNRS), and the kick off meeting this week was attended by over 160 people.
Through consortium members in The Centre for Research into Atmospheric Chemistry (CRAC), UCC and the ERI will play a leading role in developing new ways of providing access to atmospheric research infrastructures for a wide range of users in research, technology and innovation.
In this project, the entire scientific community as well as private sector actors will have the opportunity to access the main European research platforms, to participate in scientific experiments, to train new measurement techniques, to test new sensors or to develop new applications based on data from research infrastructures. The project will also mobilize drones or laboratory trucks in support of scientific experiments and new remote access capabilities which are particularly important during periods of restricted mobility, such as the COVID-19 pandemic, or to reduce the carbon footprint. ATMO-ACCESS will open physical and remote access to 43 operational European atmospheric research facilities (ground-based observation stations, simulation chambers, but also mobile facilities and central laboratories). Additionally, innovative cross-RI cloud services, addressing the management of data produced via access and the use of new, integrated data products, but also virtual tools for training, are offered through virtual access to RI data centres.
For UCC, a key part of this will be to provide international researchers the opportunity to access its new state-of-the-art atmospheric simulation chamber facility. The €1.1M facility, funded through an SFI research infrastructure grant, is used to investigate atmospheric processes that affect air quality and climate, The chamber is also used to develop new instruments and sensors for measuring gases and particles in the atmosphere.
Prof John Wenger, CRAC Director said "I am delighted to be leading UCC's involvement in this ambitious project. It strengthens our position as a key part of the atmospheric research infrastructure in Europe and allows us to increase our contribution to international efforts towards an improved understanding of the atmospheric processes that affect air quality and climate."
All work in ATMO-ACCESS integrates experiences from past access programs, thus, synergistically streamlining the work and avoiding duplication of efforts. ATMO-ACCESS will continuously engage with users and with national and international stakeholders to propose optimal conditions for a coherent and effective framework of access and involve the relevant user and stakeholder groups to establish and ensure the long-term sustainability of access with the European RI landscape.
This funding rewards a strong interaction between the 3 RIs of the Atmosphere domain ACTRIS, ICOS and IAGOS and for the development of inter-RI services. Breaking down barriers between communities will facilitate the use of these services and allow for new scientific discoveries.