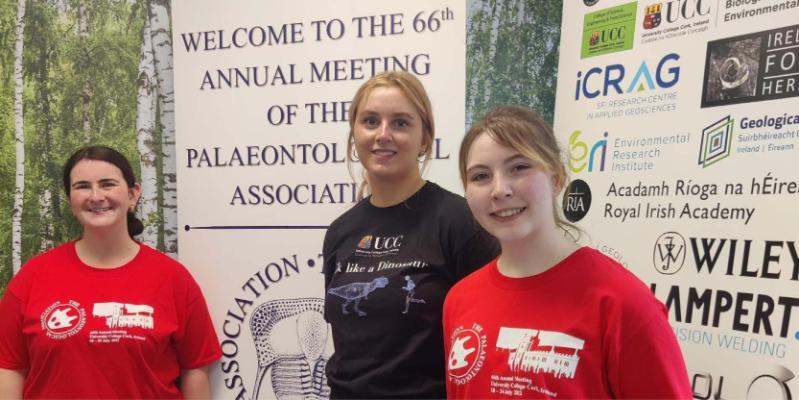 The Palaeontological Association was founded in 1957 and has become one of the world's leading learned societies in this field. The Association is a registered charity that promotes the study of palaeontology and its allied sciences through publication of original research and field guides, sponsorship of meetings and field excursions, provision of web resources and information and a program of annual awards.
The conference included a very special outreach event, the Fossil Family Expo which attracted over 700 visitors to UCC's North Mall campus with activities inlcuding a 'Walk Like a Dinosaur' tutorial, a fossil colour session and a fossil crime scene as well as plenty of rocks, VR gear and a fossil dig zone. The expo also featured interactive games, puzzles and activities with video games and real fossils for the guests to touch and hold.
The conference also featured a lecture entitled 'Decoding the past to conserve our future', by one of the world's leading biodiversity experts, Dr Larisa DeSantis, organised by the School of Biological, Earth and Environtmental Sciences and the Royal Irish Academy.
Dr DeSantis is Associate Professor at Vanderbilt University, and is a renowned conservation paleobiologist who uses modern, historic, and fossil records to inform floral and faunal responses to climate change.
Speaking about the lecture's relevance to Ireland Dr DeSantis commented:
"Biodiversity loss on islands like Ireland can be even more severe as invasive species introduced by humans, either intentionally or unintentionally, can outcompete native species".
Congratulations to the School of BEES staff, students and volunteers who made the conference so successful.