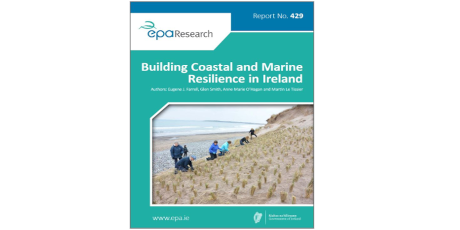 The aim of the Building Coastal and Marine Resilience in Ireland (BCOMAR) project was to provide a structure and framework, based on the existing governance and policy mechanisms, that could enable coastal communities to develop and navigate a roadmap founded on their own perceptions of a resilient future. The BCOMAR project was co-funded by the EPA and the Marine Institute.
Research 429: Building Coastal and Marine Resilience in Ireland
Authors: Eugene J. Farrell, Glen Smith, Anne Marie O'Hagan and Martin Le Tissier (ERI, MaREI)
The project involved providing a definition and context for building resilience in coastal communities in Ireland. To do this it was necessary to review national, EU and international law, policy and governance settings in relation to climate change, the environment and resilience and the juxtaposition of social and environmental responses. This enabled the project team to outline the challenges for building resilience, focusing on two case studies that addressed how, in rural and urban settings, climate action and resilience-building are operationalised at a local level, and how well the existing national and regional policy and governance structures were suited to supporting the building of resilience to climate change.
The project adapted the Intergovernmental Panel on Climate Change's (IPCC) opportunity space and climate-resilient pathways approach, to help coastal communities to engage in a process of building resilience to climate change. The ultimate outcome of this process was to provide a mechanism to overcome barriers to the participation of local communities in climate action, adaptation and resilience-building through providing a forum to bring all actors together, facilitate discussion around knowledge gaps in coastal science, policy, governance and management, and place these in the context of the process and decisions required to build resilience, and build consensus in relation to preferred futures and possible pathways for addressing different interests and priorities for different actors.
The process utilised in the BCOMAR project is transferable to other locations and contexts and will assisting those who need support in building effective local capacity, charting progress, accessing funding and embedding consistent and persistent links between the goals of society, the economy and environmental concerns, which are critical to delivering a resilient future.
Additional information and the associated report can be found here.