As part of the UCC 2022 October Open Day and, in line with UCC's steadfast commitment to leave no one behind, the Student Recruitment Office, with the collaboration of the Office of Sustainability and Climate Action, UCC's Environmental Research Institute (ERI), Student Societies and UCC's Students' Union, organised a Mock COP27 for pre-entry senior cycle students from Transition Year to Leaving Certificate. The event was hosted by Dr Fionn Rogan of the ERI and opened by Societies President Mair Kelly. It was designed to increase their awareness of what would be discussed at COP27 in Egypt and attendees were really engaged and surprised at how difficult it was to reach agreements on the difficult topic of carbon emission targets. Aligned with the 17 United Nations' Sustainable Development Goals, a specially commissioned graphic harvest was created by visual scribe Hazel Hurley, and it captured the wonderful atmosphere and highlights of the event where there were almost 70 senior cycle delegates from all over Ireland in attendance. It even included an impromptu activist protest from the Co-Op society members!
UCC's 98.3FM Siún Ní Mhuimhneacháin and Cian Pierce created a wonderful podcast episode on the event and we were honoured to be joined by Caitlin Faye Maniti, Jack McGinn and Mohammad Naeem, the current President, Education Officer and Regional Liaison and Support Officer of the Irish Second Level Students' Union (ISSU) as well as a very special guest of honour, Rayaa Onog Ponnie, a TY student from Christ the King who is Ireland's representative on the Eurochild Children's Council.
The original graphic harvest can be viewed in the Iris Ashley Cummins building, close to the Sustainable Futures Lab, and a copy of the graphic harvest was also on display in the Hub and is now permanently on display in the ERI Ellen Hutchins Building.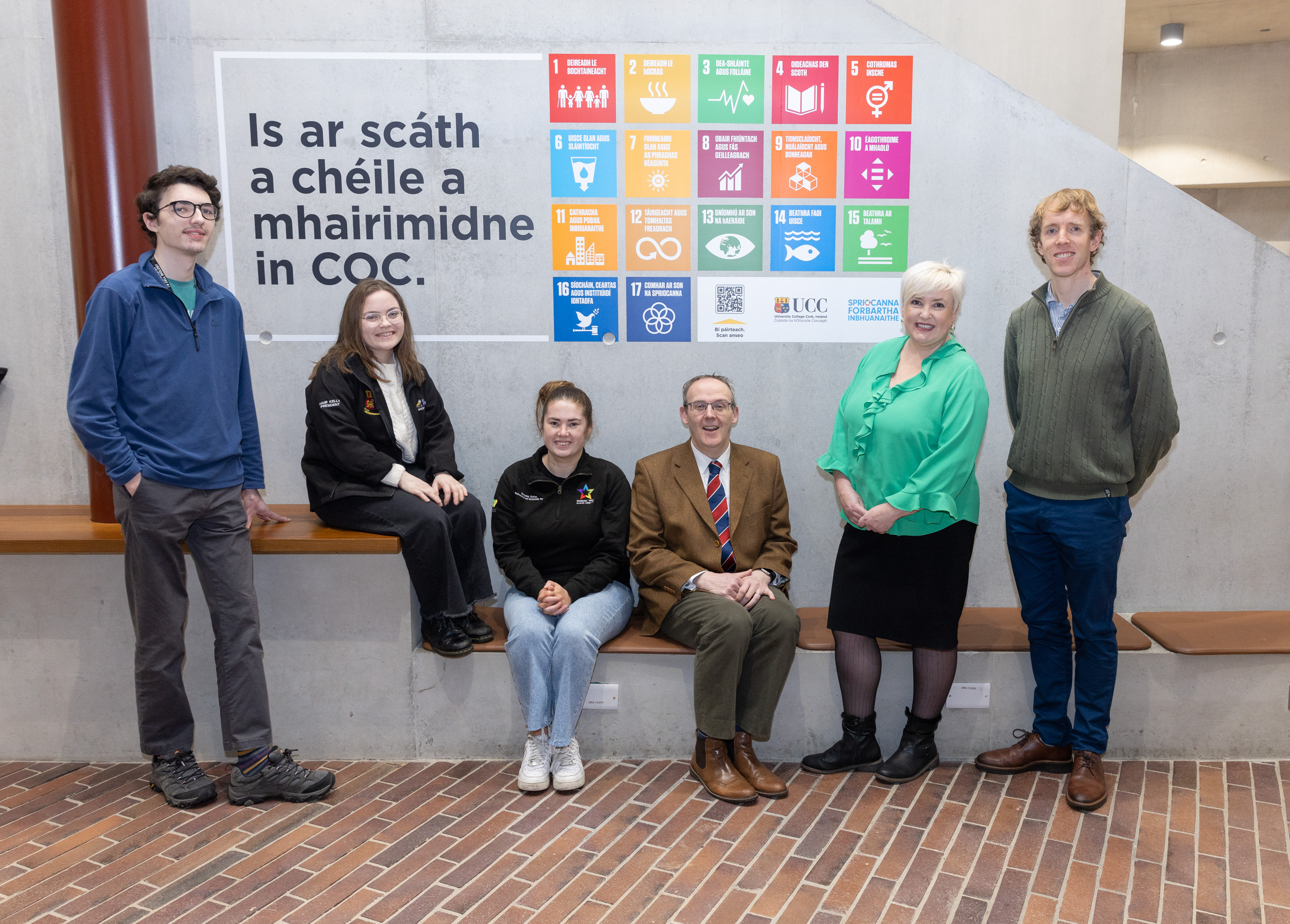 Pictured by the graphic harvest in the Hub: UCC Deputy President and Registrar, Professor Stephen Byrne, Lenka Forrest, Head of Student Recruitment, Dr Fionn Rogan, Senior Research Fellow (ERI), Mair Kelly, UCC Societies President, Natasha Sutton, Environmental and Sustainability Rep, UCCSU and Matthew Quill, Chairperson, Co Op Society.
Credit: Tomás Tyner
The UCC 2022 Open day Highlights video can be viewed here:
Credit: Dare Media Productions