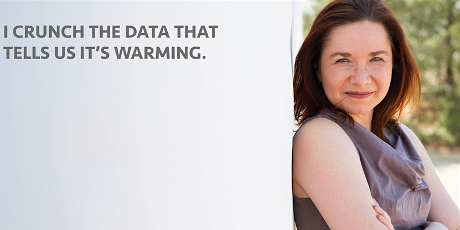 "I'm an atmospheric scientist. I study climate change, one of the most pressing issues we face today. I don't accept global warming on faith: I crunch the data, I analyze the models, I help engineers and city managers and ecologists quantify the impacts. The data tells us the planet is warming; the science is clear that humans are responsible; the impacts we're seeing today are already serious; and our future is in our hands. As John Holdren once said, "We basically have three choices: mitigation, adaptation, and suffering. We're going to do some of each. The question is what the mix is going to be. The more mitigation we do, the less adaptation will be required, and the less suffering there will be."
Prof Katharine Hayhoe, atmospheric scientist and professor of political science at Texas Tech University where she is also Director of the Climate Science Center can never be accused of not practicing what she preaches. In addition to her research on climate change, Katharine is also a remarkable communicator who has received the American Geophysical Union's climate communication prize, the Stephen Schneider Climate Communication award, and been named to a number of lists including Time Magazine's100 Most Influential People, Foreign Policy's 100 Leading Thinkers,and FORTUNE magazine's World's Greatest Leaders.
In March 2020, UCC were fortunate to play host to the first of a series of 8 seminars during Prof Hayhoe's week long tour of Ireland, which also included public seminars at NUIG, TCD, Queens College Belfast and NUI Maynooth.
As an authority on climate science, Katharine's credentials speak for themselves, she is also the CEO of the consulting firm ATMOS Research and Consulting, and has authored more than 120 peer-reviewed publications. She also co-authored some reports for the US Global Change Research Program, as well as some National Academy of Sciences reports and has also served as an expert reviewer for the Intergovernmental Panel on Climate Change's Fourth Assessment Report.
During Katharine's visit to UCC, she spoke to the ERI's Communication Officer Dr Aoife Corcoran about the actions which can be taken at a international, national and local level to make a difference to climate change, "We need to respond at a systemic and individual level, and the single most important thing that you can do as an individual is to talk about climate change. To your friends, family, people are worried about this so turn that climate anxiety into action, because a better future requires us to engage with each other." The full interview with Katharine can be seen here: https://youtu.be/UpdBNGsLtWg
Speaking to an audience of 200 at UCC's Devere Hall, Katharine brought the message home by highlighting the necessity to both adapt and mitigate and used Cork City Council's Climate Adaptation Strategy, which the ERI played a role in developing, as an example "Adaptation looks different in different countries, and rainfall is a key impact of climate change that is being felt by Ireland. And it is being adapted to."
However, Katharine also noted that as a country Ireland is receiving mostly 'C's from the Engineers Ireland 2019 Report Card on the State of Ireland. This annual independent assessment of Irelands infrastructure is generated by a panel of engineering experts grading sectors of infrastructure and developing recommendations. A 'C' grade is 'mediocre' implying that infrastructure is inadequately maintained, and/or unable to meet peak demand, requiring significant investment.
"Where ever we live, we are at risk from extreme weather," said Katharine "but those risks are increasing. The dice that we are rolling are really loaded against us, we are getting extreme weather disaster more frequently, such as flooding, drought, wildfires..Our exposure and vulnerability due to poor infrastructure are also increasing and this increases our disaster risk."
Remarking that the US Military has labelled climate change as a 'threat multiplier', meaning that it will exacerbate existing threats to stability and safety, Katharine stated that "Poverty exacerbates the already severe impacts of climate change, and as always it is the poorest amongst us who will suffer the most."
· Katharine's visit attracted much media attention, you can read some of the press pieces here: https://www.irishtimes.com/news/environment/prof-katharine-hayhoe-where-to-find-hope-that-climate-crisis-will-be-addressed-1.4201591 and https://www.independent.ie/irish-news/as-a-christian-in-texas-im-viewed-as-a-traitor-heretic-and-false-prophet-for-my-stance-on-tackling-global-climate-change-39026842.html
. For more information on Katharine's communication and research work, please visit her
website and you can also listen to an interview with Katharine: